Ever wonder what your doctor or health provider does outside the exam room? Our 7 Quick Questions series gives you a personal glimpse into the people of UVA.
Winston Gwathmey, MD, specializes in sports medicine and hip arthroscopy. He is a team physician for UVA and James Madison athletics as well as several high school teams.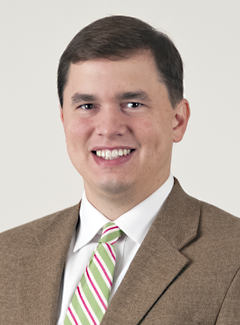 1. Why did you become a doctor?
I became a doctor because medicine combined my interest in science with a desire to provide a service to people. I was always drawn to science as a young student and found biology and physics to be fascinating. Becoming a doctor has allowed me to apply that fascination throughout my career and utilize what I have learned to help other people as well as advance our collective understanding of medicine.
2. Why did you choose your specialty?
Orthopedic surgery appealed to me because it offered the ability to fix broken people. There is nothing more gratifying than helping someone walk again after an injury has taken away that simple ability. The profound understanding of anatomy and the biomechanics that orthopedics requires allows me to recognize and appreciate the miracle of the human body.
3. What's your favorite thing about Charlottesville?
Charlottesville has all of the sophistication, culture, and activity of a much larger city in a small town in a beautiful setting. It has the best of everything in my mind and is a wonderful place to raise a family. It helps that I am a big Cavaliers fan.
4. Where did you grow up?
I grew up in a red brick house on a muddy creek just off the Lafayette River in Norfolk, Virginia.
5. What's the most exciting thing/research happening in your field right now?
Sports medicine is a field that is constantly evolving and the progress that we make on a daily basis is astounding. Hip arthroscopy in particular has been very exciting in that we are now able to recognize and treat hip injuries in younger patients and find ways to prevent the development of arthritis.
6. Who is your inspiration/hero?
My heroes are my grandfather, the late Dr. Harry Muller, and my father, Dr. Frank Gwathmey. Both men were fantastic surgeons and giants in their respective fields but were also outstanding fathers and husbands at the same time. While I love my work, these men remind me how important it is to remember the family for whom I work.
7. What's your favorite thing about working at UVA?

UVA understands how to be an integral part of the community here in Charlottesville while at the same time attaining national and international recognition for the outstanding medical care, research, and education that is provided here. It is fun to be a part of the team and helping to generate the momentum that will undoubtedly advance UVA's position as a leader in orthopedic surgery and health care as a whole.
Hear more from Dr. Gwathmey in his profile video.