When you think of giving birth with a midwife, you might imagine home births and no epidurals. But UVA's certified nurse midwives deliver babies in the hospital.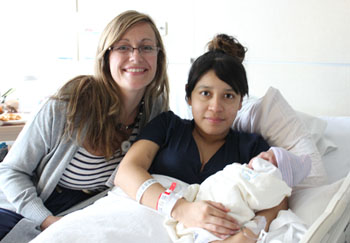 There, moms can be comfortable and have access to neonatal intensive care and the necessary experts should the need arise. Besides delivering babies, midwives can also provide gynecology and primary care.
Why Choose a Midwife?
"Here at UVA, we're a small group of midwives, so it's just a more personalized setting," explains certified nurse midwife Kate Becker. Their goals are to educate women about their delivery options and give them a positive pregnancy.
Midwife services can include:
Preconception counseling
Massage and help with positioning during labor
Laboring in the shower or tub
In this week's podcast, Becker breaks down the myths and facts surrounding midwives. Listen to the podcast: