Ever wonder what your doctor or health provider does outside the exam room? Our 7 Quick Questions series gives you a personal glimpse into the people of UVA.
Kenneth Norwood, MD, specializes in developmental pediatrics at UVA Children's Hospital. He sees patients who may have neurodevelopmental disabilities.
1. What did you want to be when you were little?
I was interested in becoming a doctor from a young age. In particular, I wanted to be a pediatrician. I was very impressed with the things that my pediatrician said and did. I was also attracted to helping children from a young age. My first job at 13 years old was working as a camp counselor at a YMCA day camp. I w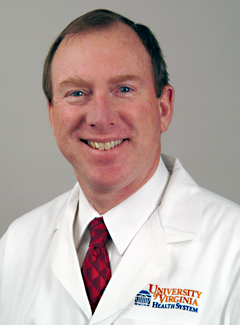 as a baseball and swim coach throughout my high school and college years.
2. Why did you choose your specialty?
I always had special empathy for children who weren't as coordinated or socially successful as the others. I learned early on that your team is only as good as its weakest performers and spent lots of one-on-one time helping these children. My decision to become a developmental pediatrician was a natural outgrowth of my desire to be a pediatrician and to help the children who need it most.
3. What's your favorite thing about Charlottesville?
I'm a country boy at heart. I love mountains, streams and open spaces. Charlottesville offers me the opportunity to live and work in a beautiful area with friendly people that is not overly crowded.
4. Where did you grow up?
I grew up in a number of areas scattered around the country due to my father's job with General Electric. I was born in Lancaster, PA. When I was two we moved to Richland, WA. I eventually lived in Glens Falls, NY and Columbia, SC. I went to high school in Burnt Hills, NY near Albany.
5. What's the most exciting thing/research happening in your field right now?
We currently don't have any medications that treat the core difficulties that children with autism face. There are several possible effective medications for autism on the horizon.
6. Who is your inspiration/hero?
My inspiration/hero has been my father. He is a kind, brilliant man who has lived by a code of ethics that he passed on to me and my siblings.
7. What's your favorite thing about working at UVA?
The people. It is an honor and privilege to work with a dedicated group of physicians, nurse practitioners, psychologists, nurses and therapists. They teach me something new every day.