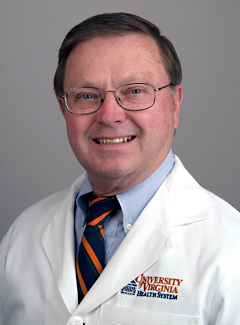 Ever wonder what your doctor or health provider does outside the exam room? Our 7 Quick Questions series gives you a personal glimpse into the people of UVA.
Kenneth Greer, MD, is a dermatologist at UVA Medical Center. He grew up in Southwest Virginia and became a doctor after developing a friendship with a doctor from his hometown.
1. Why did you become a doctor?
I became a doctor after developing a friendship from a general surgeon in my hometown in Marion, Virginia as a high school student and working under him as an orderly in the local hospital.
I admired his work and patient contact.
2. Why did you choose your specialty?
I switched from internal medicine/cardiology after a two-year stretch in the U.S. Navy where I was exposed to challenging skin diseases. It kindled my interest so I switched in mid-stream to dermatology.
3. What's your favorite thing about Charlottesville?
My favorite things about Charlottesville are the university and all the outdoor activity in the surrounding areas.
4. Where did you grow up?
I grew up in Marion in southwest Virginia.
5. What's the most exciting thing/research happening in your field right now?
We are researching a new immune modulating drug for a number of diseases. A downside is the extreme cost to use them for the patients.
6. Who is your inspiration/hero?
Many of my former teachers have been heroes to me.
7. What's your favorite thing about working at UVA?
I am proud to be a small part of a large team of folks with whom I work daily. I also enjoy my many patients and also love the sports.
UPDATE, 7.26.2016: Yes, Greer is the man behind Greer's Goo. As he told us, "I found the formula in an old textbook in 1971 when daughter number three had terrible diaper dermatitis." He notes that, while many pharmacies don't like to mix items, UVA pharmacies do — and, because it works so quickly and effectively, it sells. Fun fact: Greer's Goo is especially popular in nursing homes.