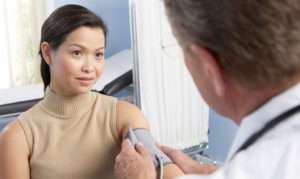 When it comes to caring for your heart, sometimes it's necessary to call in an expert, aka a cardiologist or physician trained in identifying and treating conditions of the heart and vascular system.
To help you determine exactly when and why you should see a cardiologist, we asked Lawrence Gimple, MD , Director of Clinical Cardiology and Co-Director of the UVA Heart and Vascular Center, to share some of the leading reasons to pay a visit to a heart specialist.
Onset of Symptoms
More often than not, it is the sudden onset of symptoms that spurs a visit to a cardiologist, and for good reason. The following symptoms may signal a serious cardiac event, so you should seek out a cardiologist if you experience:
Pain or pressure in the chest, either of which may signal a blockage or narrowing of the arteries. "It's important to note that pain may not be present but someone may experience the sensation of heaviness or indigestion," says Gimple.
Shortness of breath or fainting can be a sign of congestive heart failure.
New, unexplained arrhythmia, including palpitations (quickening of the heart) or skipped beats.
Warning Signs
Elevated lipid levels and hypertension are leading causes of cardiovascular disease. Your primary care physician may be able to keep your cholesterol in check or help you lower your blood pressure, but a referral to a cardiologist may also be advised to check heart function, determine whether cardiovascular disease is present and evaluate how best to treat it.

Family History
If you have an inherited risk of cardiovascular disease – if a parent had a heart attack at a young age – then the best thing you can do is take preventive measures early on to maintain a healthy heart, says Gimple. If your health habits are nothing to brag about or you begin experiencing symptoms associated with cardiovascular disease, then an appointment with a cardiologist may be recommended to evaluate potential risk factors and establish a self-care plan. Even if you feel you are in good health, mention your family history to your physician, especially if there is an inherited risk of an unusual heart condition or disorder.
Make an Appointment with the UVA Heart & Vascular Center

Call 434.243.1000 or request an appointment online.
Existing Condition
"Heart conditions are chronic," says Gimple. "You don't just treat them and they go away. You have to continue to be treated." Thus, if you have had heart procedures in the past (i.e. stenting or valve replacement), suffered from cardiovascular disease or a heart attack, then you should remain under the care of a cardiologist. Those who have been diagnosed with a congenital heart condition may be under the care of a cardiologist throughout their lives.