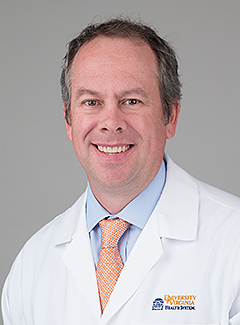 Ever wonder what your doctor or health provider does outside the exam room? Our 7 Quick Questions series gives you a personal glimpse into the people of UVA.
Michael McCulloch, MD, is a pediatric cardiologist at UVA Children's Hospital. He treats pediatric patients at UVA Children's Hospital Heart Center.
1. Why did you become a doctor?
I always knew I wanted to be a doctor. I had kidney problems myself when I was young and developed an early appreciation both for the challenges kids face when they have health problems and for those doctors who could meaningfully interact with me when I was in the hospital.
2. Why did you choose your specialty?
The physiology and anatomy associated with pediatric cardiology is absolutely fascinating, and no two children are the same. Further, the ever-advancing field of pulmonary hypertension, heart failure and heart transplantation allow newer, more innovative ways to help these children every day.
Lastly, the strong, lasting relationships formed when caring for a child with a lifelong disease are extremely rewarding.
3. What is your favorite thing about Charlottesville?
I love the general Charlottesville vibe and attitude, which are largely shaped by the progressive, forward-thinking population. I am also a huge fan of live music and microbrews, of which there are no shortages in this area!
4. Where did you grow up?
I split my childhood, strangely enough, between New Jersey and Texas, which allowed for two very different views of how our country thinks and works.
5. What's the most exciting thing/research happening in your field right now?
Want to know more?

Learn more about the Pediatric Heart Center.
To me, the most exciting advancements are happening in the generation of new medications to treat pulmonary hypertension and new machines to help treat heart failure patients.
6. Who is your inspiration or hero? 
My inspiration comes from my wife and kids, who are there for me every day and provide the greatest joy in my life. My heroes, on the other hand, are the patients and parents living with chronic disease. These are some of the most courageous and strong people I could ever have the privilege of knowing and help provide me with a perspective I would otherwise never have.
7. What's your favorite thing about working at UVA?
In addition to providing the best clinical care now, clinicians working at an academic medical center like UVA are typically interested in advancing the field so we can improve how we care for patients in the future. It is a lot of fun working with people from a number of different divisions who are driven to produce cutting-edge research improving the lives of children.