Ever wonder what your doctor or health provider does outside the exam room? Our 7 Quick Questions series gives you a personal glimpse into the people of UVA.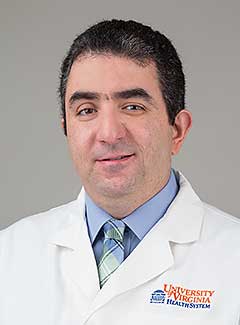 Cherif Abdelmalek, MD, is a hematologist and oncologist at UVA Cancer Center. He treats patients at UVA Cancer Center Augusta.
1. Why did you become a doctor?
I grew up in a family of physicians, and I saw the impact of the wise knowledge and the sincere care provided by my dad and grandfather on the health and well-being of my community.
2. Why did you choose your specialty?
I chose to be a hematologist/oncologist because there are a lot of myths in regards to cancer. Patients are afraid of it; they need an experienced and compassionate friend to hold their hands through this overwhelming experience.
3. Why did you choose to practice in the Central Virginia area?
I have family members all over Virginia, so the location was convenient. When I came to the interview, I became content seeing the open horizons surrounding me while driving. The combination of mountains and fields is really relaxing. However, that is nothing without the friendly and welcoming spirit that I felt during my few interactions with the local people at stores, hotels and the clinics.
4. Where did you grow up?
Alexandria, Egypt, one of the oldest cities in the world. There are a lot of monuments, museums and cultural events. I've always liked to be close to historical and crowded cities like New York, Los Angeles, Chicago, and definitely Washington DC, but not too close. This way I can enjoy a relaxing working environment and have access to the crowded busy city life on weekends. 
5. What's the most exciting thing/research happening in your field right now?
Want to know more?

Learn more about UVA Cancer Center Augusta.
Personalized medicine and immunotherapy had allowed us to target the culprit pathological causes of various diseases which in turn is achieving higher cure rates and response rates for many diseases like CML, myeloma, breast cancer and melanomas, among others that were fatal twenty years ago.
6. Who is your inspiration or hero? 
I have a bunch of them. My dad was and still is an old-fashioned physician who listened to the patient more than anything. I believe that's the essence of the clinical judgment. Another role model for me is a young physician scientist who has been my mentor and guide for the last five years. His dedication to his career path and his assertive approach are two criteria that I learned from him.
7. What's your favorite thing about working at UVA?
The balance between state-of-the-art community oncology practices and robust academic excellence. The steady growth of the Cancer Center is really promising.