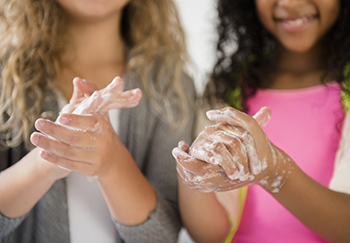 This month we visited Stuarts Draft Family Practice in Stuarts Draft, Virginia. Ann Morey, MD, has been seeing patients, especially school-aged children, for colds (also known as upper respiratory infections or URIs). She has also seen an increase in seasonal allergies.
Colds & Upper Respiratory Infections
It's no coincidence that physicians see an increase in colds around the time kids head back to school. "The kids go back to school and start spreading things around. Small children often don't do a great job of washing their hands," Morey said.
The key to avoiding colds is good hand hygiene. Wash your hands thoroughly and often, with soap and warm water, and avoid touching your face. Hand sanitizer is an acceptable substitute.
Upper respiratory infections are generally viral, so there's no real treatment, just symptom management. Morey says you can expect a head cold to last ten days, and a cough can last up to three weeks. Over-the-counter medications such as Tylenol, saline nasal sprays and multi-symptom cold medicines can help.
According to Morey, these medicines are safe for just about anyone, as long as you follow the dosing instructions closely. Be sure to read the ingredients of decongestants and multi-symptom medications to avoid double dosing – some of those medications also include pain relievers.
Feeling under the weather?

Find a primary care doctor near you.
Morey says to see a doctor if:
You're having trouble breathing.
The cold persists for more than a couple weeks.
You run a fever for more than three days.
However, infants under three months old should always be seen if they are sick and running a fever.
Seasonal Allergies
With the changing of the seasons comes seasonal allergies. Morey recommends over-the-counter allergy medications such as Claritin and Allegra, and steroid nasal sprays like Nasacort, Rhinocort and Flonase to reduce allergy symptoms. All of these offer children's versions, too. They need to be used daily during allergy season in order to provide relief.
The Germwatch series provides information on what's going around in our community as well as popular reasons for primary care visits.