Ever wonder what your doctor or health provider does outside the exam room? Our 7 Quick Questions series gives you a personal glimpse into the people of UVA.
Johann Hsu, MD, is an oncologist at UVA Cancer Center. Personal experiences with cancer in his family inspired him to practice medicine.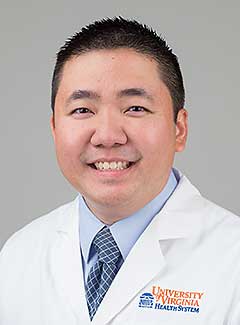 1. Why did you become a doctor?
Many personal family experiences with cancer inspired me to become a doctor.
2. Why did you choose your specialty?
Combined adult and pediatric hematology and oncology provides a furthering of my med/peds foundation, enabling me to pursue a career with adults and the adolescent young adult (AYA) population in a field with some of the most complex pathology and exciting evolving therapies.
3. What's your favorite thing about Charlottesville?
My favorite things about Charlottesville are the beautiful scenery, friendly people and delicious food.
4. Where did you grow up?
I grew up in a small quiet town near Daytona Beach, Florida.
5. What's the most exciting thing/research happening right now in your field?
Innovations in immunotherapy are probably the most exciting things in medicine currently.
Want to know more?

Learn more about UVA Cancer Center Pantops.
6. Who is your inspiration or hero?
My father's struggle with cancer and its late effects have been very inspirational.
7. What's your favorite thing about working at UVA?
It is a privileged to work with some of the best physicians providing world-class care to our patients.