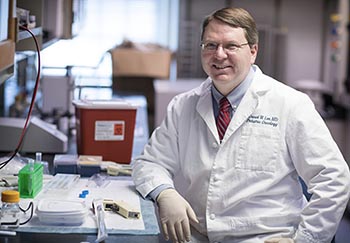 While pediatric oncologist Daniel "Trey" Lee was working at the National Institutes of Health, he tested a form of gene therapy as a possible way to save children with leukemia. The results were encouraging. 70 percent of trial participants responded to the treatment, and less than 10 percent relapsed.
Now at UVA, Lee just gave the first dose of an experimental immunotherapy to a 14-year-old with acute lymphoblastic leukemia. This is the most common cancer in children, according to the Journal of Clinical Oncology.
What is Gene Therapy?
Gene therapy involves introducing genetic materials into your cells to treat or cure a disease. Immunotherapy is a form of gene therapy that boots the body's immune system.
This trial involves chimeric antigen receptor (CAR) T-cell therapy. CAR T-cell therapy takes a person's immune cells and genetically modifies them in hopes of making them more effective cancer killers. Researchers are evaluating it as an option for pediatric acute lymphoblastic leukemia cases that have relapsed or not responded to other forms of treatment.
"We collect cells from a vein of a patient, the cells are shipped to a central manufacturing facility where they're made in approximately seven days, and they're shipped back to us," Lee says. "So we can have a vein-to-vein time of 16 to 18 days, which is really fast."
If the clinical trials show that this approach effectively treats pediatric acute lymphoblastic leukemia, it may ultimately get Food and Drug Administration approval and be available as a treatment.
A T-Cell Therapy Expert

Learn more about Lee's leukemia trial and T-cell therapy research.
Other Recent UVA Research: Exercise Makes Cells Healthier
In other genetics news, researchers are diagnosing diseases and predicting outcomes by measuring tiny changes in interactions between molecules. This could be a way for doctors to more accurately predict how severe genetic diseases like Alzheimer's and depression will be. Read more about how researchers calculate these tiny molecular changes.
Also, if you need motivation to go to the gym, Zhen Yan, PhD, has encouraging results from a study in mice. Just one bout of moderate to intense exercise triggers beneficial changes within cells.
However, when researchers removed an enzyme involved with the process, they found the mice did not benefit from the exercise. Likewise, some people with Type 2 diabetes don't see benefits from exercise. UVA's experts hope this research will lead to new discoveries to help them.
Learn more about the exercise research.