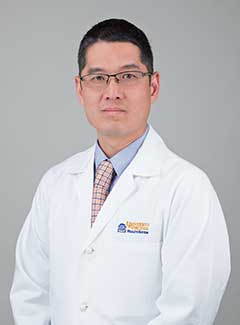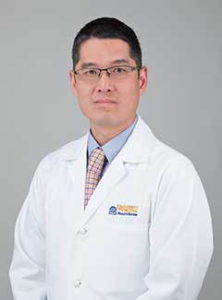 In recognition of Stroke Awareness Month, we sat down with neurosurgeon Min Park, MD, an expert in cerebrovascular and endovascular neurosurgery. Park is a military veteran who served in the Navy for four years, including six months in Afghanistan. To UVA, he brings an extensive knowledge of neurological and neurovascular diseases, including:
Ischemic and hemorrhagic stroke
Aneurysms
Spine and skull base tumors
Meet A Cerebrovascular and Endovascular Neurosurgery Specialist
1. Why did you become a doctor?
I became a doctor because of my father who was a surgeon. He truly loved his job and the daily interactions with his patients. That served as the best recruitment tool for the medical profession.
2. Why did you choose your specialty?
In medical school, I was fascinated by the neurosciences and the challenges in understanding the brain. During my clinical rotations, I was introduced to the chair of neurosurgery, Dr. Paul Nelson, who encouraged me to explore neurosurgery as a profession. It was the best advice I ever received in medical school.
3. What is your favorite thing about Charlottesville?
Charlottesville is a very family-friendly environment with lots of great recreational activities and events for the whole family. In a very short order, I feel that my family and I have been embraced by the community.
4. Where did you grow up?
I grew up in a little town called Munster, Indiana, right off of the southern tip of Lake Michigan.
Keep Up With UVA Providers

Don't miss another 7 Quick Questions. Sign up for our weekly email updates.
5. What's the most exciting thing/research happening in your field right now?
Technology plays an ever-increasing role in medicine today, no more so than in neurointerventional surgery where new therapies and devices are being developed at a phenomenal rate to better help patients with some of the most complicated medical problems in existence. Being a part of a renowned neurosurgery department at the University of Virginia allows me the opportunity to stay at the forefront of these new discoveries.
6. Who is your inspiration or hero? 
My parents. My father for opening my eyes to the joys of medicine and for his unwavering integrity. My mother for keeping three rambunctious boys (mostly) out of trouble. And my wife for her endless love and support and understanding/forgiveness for the long hours.
7. What's your favorite thing about working at UVA?
Certainly, it's the people that I work with on a day-to-day basis. This collection of dedicated and fun individuals at UVA Health System helps to make it a pleasure to wake up every morning.
Ever wonder what your doctor or health provider does outside the exam room? Our 7 Quick Questions series gives you a personal glimpse into the people of UVA.