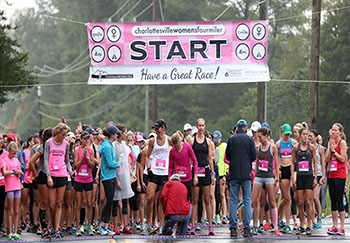 Are you a runner looking for local races? We've rounded up all the upcoming races in the Charlottesville area that raise funds and awareness for local causes and benefit the University of Virginia.
Not a runner yet? That's okay. Pick a race to set as your goal. There's plenty of time to train for fall races, and some races even offer training programs.
Josephine's Village 5K
Saturday, August 18
The inaugural Josephine's Village 5K celebrates the life of baby Jo, who died from congenital heart disease, and raises awareness for CHD. Proceeds from this local 5K race go to the UVA Heart Family Fund and Mended Little Hearts of Charlottesville.
Charlottesville Women's 4-Miler
Saturday, September 1
The Charlottesville Women's 4-Miler has become a Charlottesville tradition. Over its 35-year history, the 4-Miler has raised more than $3.5 million for the UVA Breast Care Program. There is also a training program for this race. Race registration opens on June 20, and there's a 3,500-runner limit, so register early!
Fourth-Year 5K
November 2018
The Fourth-Year 5K takes place each year around the day of the last home UVA football game. The goal is to raise awareness about the dangers of binge drinking and to provide a healthier, safer alternative to the dangerous "fourth-year fifth" tradition.
Running Pain?

The UVA Runners Clinic can help. Call to make an appointment 434.243.5600
It's open to runners of all ages. Stay tuned for more details about the date and registration.
Boar's Head Turkey Trot
Thursday, November 22
The Boar's Head Turkey Trot is a 5K and is held annually on Thanksgiving Day. Get some exercise before the big meal and benefit UVA Children's Hospital. Registration is limited to 1,400 runners and will open later this summer.
Bill Steers Men's 4-Miler
Spring 2019
The Bill Steers Men's 4-Miler (formerly the Charlottesville Men's 4-Miler) has become another Charlottesville tradition over its 14-year history. Organizers renamed the race for its co-founder, Bill Steers, after his death in 2015. Steers was a professor and chair of the Department of Urology at UVA. This race is hosted by the UVA Department of Urology and aims to raise awareness about men's health issues. This race has typically been held in the fall, but will be moving to the spring in 2019. Stay tuned for date and registration details.
You Can Do it!
Whether you walk or run, participating in local races like these gives the opportunity to get out, get moving, meet new people and give back to the community. Maybe we'll see you there!