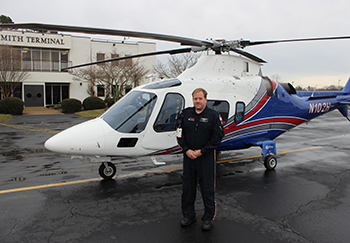 For Pegasus flight nurse Shawn Reid, his nursing career started with a few simple questions: What happens to patients who are taken to the hospital? What will their treatment entail? How can I improve the lives of my patients?
Reid started out as a paramedic in a small community. From there, he explored a couple of other roles in the medical field: He was a mortician, then managed a group of funeral homes in Richmond, VA. Reid always wanted to help those in need and found offering families closure very rewarding. His aspirations led him to becoming a nurse.
Even as a nursing student, Reid's goal was always to become a flight nurse. He worked in intensive care and emergency departments to get the experience he'd need. His first role as a critical care transport nurse was with Bon Secours Critical Care Transport program. Next, he got a part-time position as a flight nurse with Pegasus, UVA's medical helicopter, and then a full-time position opened up. He's been flying with Pegasus ever since – 6 years and counting.
A Typical Day
Back in February, I had the chance to ride with the Pegasus team for a day and get a sense of what their work was like. I quickly learned that there is no such thing as a "normal" day. Not only are no two patient transports ever the same, but helicopter transport work is also completely dependent upon the weather. The day I shadowed the team, we were grounded for more than half the day because of poor visibility and high winds.
Shawn Reid and the rest of the Pegasus team taught me a number of new things that day while we were waiting to fly:
The team only finds out the details of the call they're responding to once they're in the air. This is so they can't be tempted to make a dangerous flight if, for example, they know the patient is a child.
Any member of the team can say "no" about responding to a call based on a safety concern, and if that happens, the team doesn't go.
Each shift's helicopter crew is made up of a pilot, a flight nurse and a flight paramedic.
Members of the flight crew also staff the Pegasus Critical Care Transport ambulance seven days a week. Reid and his colleagues all rotate between ambulance and helicopter shifts.
What A Flight Nurse Can Do
Flight nurses generally have previous critical care experience prior to beginning medical transport work. Pegasus transports patients of all ages, which not all medical helicopters do. That means Pegasus' flight nurses and paramedics have to have a very broad knowledge base and skill set.
Flight nurses like Shawn Reid are able to start blood transfusions and administer certain drugs on-scene that EMS responding to medical emergencies cannot. This can dramatically improve survivability. Reid explained that "we are implementing the UVA way of caring for patients the moment we make contact."
The team has guidelines regarding which care they should provide for the given situation. According to Reid, those guidelines handle 98-99 percent of cases. They also have a medical director on call to consult on particularly unusual cases. Reid explained flight nursing as being an extension of the hospital's emergency room and intensive care units.
Subscribe for More Stories Like This

Sign up to have interesting stories and health tips delivered to your inbox each week.
Flight nurses like Reid have lots of autonomy and lots of tools available to them. They can put a patient to sleep, secure their airway and place them on a ventilator. They can administer a multitude of IV medications, place central lines and chest tubes. The in-flight medical team is often in touch with doctors at the receiving hospital. That way those doctors know the patient's condition and can quickly continue treatments upon arrival at the hospital.
The in-flight medical technology is amazing. As a flight nurse, Shawn Reid and his team can use:
Ultrasound — helps with placing central or arterial lines to administer drug and also lets them look at heart function to see what drugs would improve the patient's condition
IV pumps — preloaded with medications the flight crew can administer, some of which aren't even available at some hospitals
State-of-the-art heart monitor — identifies and allows the crew to address abnormal heart rhythms
Ventilator — administers various modes of ventilation identical to those offered in the hospital setting
i-STAT — handheld blood analyzer, which helps guide treatment and improve patient outcomes
The Best Job in the World
I asked Reid how he handles the emotional impact of such an intense job. He explained to me that the team jokes around during their downtime in between calls. Keeping it light helps them cope with the difficult situations. Helping patients in need also offsets those difficult situations. As Reid puts it, "it's the best job in the world because you get to make a difference in a patient's life on possibly their worst day."