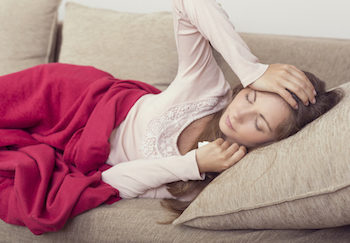 If you think it's too soon to think about avoiding the flu, think again. John Davison, MD, a family medicine physician at UVA Primary Care Riverside, says that although he hasn't personally seen patients with flu, there have already been a few reported cases in our area. "The flu typically picks up mid to late October," says Davison.
Avoiding the Flu: Priority No. 1
"The best thing you can do now to protect yourself this flu season is to get the flu vaccine," Davison adds. Here are some things to keep in mind about the flu shot.
Who should receive the flu shot?
The Centers for Disease Control recommends that most people over age 6 months get the flu shot every year.
Who should not receive the flu vaccine?
Infants under age 6 months or those with an allergy to the vaccine or its ingredients should not receive the flu shot.
Who should make vaccination a priority?
People who are at high risk for complications from flu, including those with asthma, heart disease, diabetes or other chronic health problems, shouldn't delay getting vaccinated.
Is the FluMist nasal spray an option for all children?
The FluMist nasal spray cannot be given to children under age 2 or over age 9. Note that the FluMist nasal spray is not available at all clinics. Contact your physician to determine if it's being offered.
Is the FluMist preferred over the injectable vaccine?
No, FluMist is an alternative. The American Academy of Family Practice recommends the flu shot for all children 6 months and up unless they refuse to receive an injection.
What is the recommended dose for children receiving the vaccine for the first time?
Children between the ages of 6 months and 9 years who have not received a flu shot in the past should receive the vaccine and a booster one month later.
Can I take Tamiflu instead of getting the flu shot?
No, antiviral medication or Tamiflu is not a substitute for the vaccine.
Need a Flu Shot?

Stop by a UVA pharmacy. No appointment necessary.
Flu Symptoms
Flu can come on suddenly and often may mimic other infections. The most common symptoms include:
Body aches
Cough
Congestion
Fatigue
Fever
Nausea
Sore throat
What to Know About Tamiflu
Tamiflu is an antiviral medication that has been shown to shorten the duration of flu symptoms. "With Tamiflu, flu symptoms may last 4 1/2 to 6 1/2 days," says Davison. "Flu lasts 5 to 7 days typically."
For most of us, waiting it out may be the best course of action. Exceptions — people who should consider talking to the doctor about getting Tamiflu — include those with chronic conditions such as heart or lung disease. Select people, such as a primary caregiver of a young child or elderly parent, can use TamiFlu as a preventive measure.
"If you haven't gotten the flu vaccine, and a family member has a confirmed flu diagnosis, you can get Tamiflu to help prevent an infection," says Davison. "You should take Tamiflu once a day for 10 days and also get a flu vaccine."
Davison also cautions that parents of school-age children may want to consider taking a child to the doctor if they suspect flu but are unaware of others infected. "The flu can mimic other conditions like meningitis, so it may be a good idea to get a diagnosis," he says.
Learn more about flu season and vaccination.