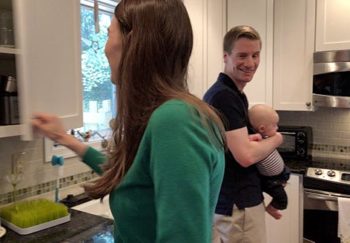 In 2008, Matt Miller, a third year undergraduate and walk-on swimmer at UVA, was cycling up the Blue Ridge Mountains. One of the many dreams he carried with him, besides pursuing medical school, was competing in a triathlon – with his eyes set upon the Ironman.
But an enormous obstacle lay ahead that day. Matt lost control of his bike and swerved on an uphill climb. As he veered left, he met head-on with a Porsche traveling downhill at 40 mph. In an instant, the trauma changed his life forever.
The impact crushed his face. His jawbone was fractured on both sides and his teeth were smashed. He lay unconscious, bleeding and not breathing.
In UVA Magazine's "After Disaster Strikes," author Bart Isley relays how, in a stroke of fortune, anesthesiologist Mark Harris, MD, witnessed the accident. Harris knew that by pulling Matt's jawbone forward, the jolt of pain would start Matt breathing again.
The next 10 minutes of chaos felt like an eternity for those at the scene. Once the medic arrived and assessed the situation, he radioed a helicopter to transport Matt to UVA, a level 1 trauma center.
Picking Up the Pieces: Reconstructive Surgery
Matt's then-girlfriend Emily Privette remembers getting the phone call from a mutual friend. "She said, 'Don't panic, but Matt was in an accident.' Of course, the first thing you do is the opposite of that, and panic."
As Matt lay in a coma at UVA, the immediate concerns included brain damage and facial reconstruction. When his father, Mike Miller, arrived at the ER to see his son, Matt's face was unrecognizable. Stephen Park, MD, recalls, "The analogy I gave the family was it was like a china plate being dropped."
Throughout Matt's journey, an element of the miraculous touched every step. On the sensation of awakening from his coma, he says, "I felt like myself inside. I mean, I felt like my brain was working as it should be. I felt like my personality was who I was."
A Miraculous Recovery
Matt's recovery involved multiple surgeries, including a critical procedure that prevented an aneurysm from causing a stroke and two facial reconstruction surgeries.
Initially, Matt was unable to speak because his mouth was wired shut from facial surgery. The family was well aware of the challenges ahead: "He was going to have to learn how to walk, how to talk, how to, just, function," recalls Mike.
Then the first sign of recovery: Matt began writing.
"He was writing full sentences. He was correcting his grammar," says Mike. "Everything would say to us that Matt's brain was working."
In the miraculous recovery and therapy that followed, Matt was able to finish up his school year with straight A's and graduate on time in 2010. Throughout his therapy, the wide range of specialty care at UVA supported the sheer strength of Matt's will.
"I had neurosurgery involved in my care, trauma surgery involved in my care, interventional radiology involved in my care," he says. "Every doctor, every nurse who worked on me clearly had my interests at the center of what they were doing."
Healing & Correcting Facial Trauma

Learn more about facial reconstruction at UVA.
Beyond Facial Reconstruction
Matt continued to follow the goals he set for himself before the accident. He went to University of Pennsylvania for medical school, focusing on reconstructive surgery. And two years to the day after leaving the hospital, he finished the Ironman triathlon.
Most importantly, his biggest recovery goal was to manifest the future he had planned with Emily. Matt's accident, especially the ensuing facial injury and recovery, left him with doubts about their future. But Emily, who he said "lived in the hospital" until he was released, stood by his side throughout their journey. That eventually included marriage and a family.
"From the first time we met, we knew we were going to fall in love," says Matt. "Back in high school. We knew we wanted to start a family."
From this near-tragic cycling accident to facial reconstruction and a remarkable recovery has come a future renewed: with Emily, with Matt's career in the medical profession, and with every dream he was pursuing that day he cycled uphill in the Blue Ridge Mountains.
Watch Matt's story.