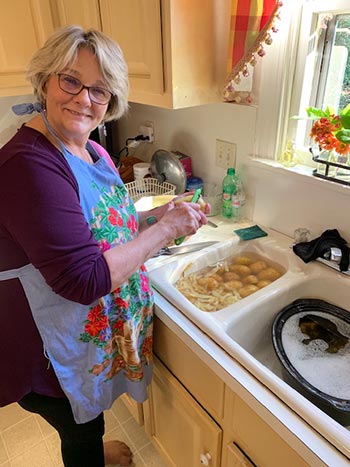 Look down at the pinky finger on your dominant hand. What's it doing? It's probably helping you hold your phone or resting on your keyboard or mouse. Now imagine trying to accomplish everyday tasks — typing, opening a jar, writing, yardwork — without it. You probably could, but it'd be difficult.
That was Marcia Oglesby's future in spring 2018 when the freckle on her finger turned cancerous. Getting a second opinion (and actually, third, fourth and fifth opinions) saved her finger.
A Small, Bunny-Shaped Freckle
Marcia, who is 64, first noticed the small, flat freckle on the outside of her right pinky finger when she was a teenager. As she got older, Marcia knew her fair skin, blue eyes, blonde hair and tanning history were skin cancer risk factors. She also frequently went to the dermatologist for eczema. At one point, she mentioned the freckle's irregular edge to her dermatologist, who took a biopsy that came back benign. He told her not to worry about it.
"I always had to keep an eye on it," Marcia recalls. "It grew back. It didn't get large." The shape of the little freckle reminded her of a bunny.
Her husband had a melanoma removed, which reminded her of the importance of screening. Still, she didn't get screened consistently. "I did it when I felt like it," Marcia admits.
The Melanoma Diagnosis
During summer 2018, Marcia's family tried to tell her the spot was changing. "No, I don't think so," she'd respond. But after some time, she realized they were right. The little freckle was raised and getting bigger. Marcia figured she would wait until her dermatology appointment the following February.
At that appointment, her doctor took a biopsy, suspected very early-stage cancer and referred her to a local hand plastic surgeon. That surgeon came back with a more serious diagnosis: At least stage 1 melanoma.
Marcia remembered that when her husband had melanoma, doctors had to remove a lot of flesh with it. "I know on a pinky finger, there's not much flesh to take," she says.
Indeed, the doctor recommended amputating the finger. He said it wouldn't be very noticeable, but that wasn't Marcia's concern.
"I am dominantly right handed," she says. "I wanted the use of my hand. I kept thinking, 'Why do we still have a pinky finger? What purpose does it serve?' Doing a little research, I found out that's where your grip is. So I did not want to give that up if I didn't have to."
It was March 8. The doctor wanted to schedule the surgery for March 15.
Marcia knew she needed to move quickly, before the melanoma got worse. She told the doctor she was getting a second opinion. "Even when I get a new roof, I get two or three estimates."
Getting a Second Opinion, and Then Some
Marcia lives in North Chesterfield, about an hour from Charlottesville and UVA. So her doctor recommended surgical oncologist Craig Slingluff, MD, for a second opinion for her cancer surgery.
The problem was, Marcia couldn't get an appointment right away, so she began researching other options. Her daughters, who had connections at other cancer centers on the East Coast, helped her. Then, she got an appointment at UVA, but it was the same day as a different hospital in another state. She put off the UVA appointment, but finally, almost three weeks after her diagnosis, she found herself in Slingluff's clinic.
At that point, three doctors, including the first surgeon she consulted, had recommended amputation. Only one had told her she might be able to keep her finger.
Marcia recalls that Slingluff was "intensely diligent." He took out a marker and measured where he knew he would need to cut to get the margin. He told Marcia he thought he could remove the melanoma and save her finger, but he couldn't be sure until he began the surgery.
Then he called hand surgeon Brent DeGeorge, MD. Slingluff's goal was to remove Marcia's cancer and an appropriate margin of tissue around it, which would reduce the risk of recurrence. DeGeorge worked side-by-side with him to ensure preservation of blood supply, tendons and nerves.
After the cancer was removed, DeGeorge planned to add flesh to cover the deep tissues of the finger and to reconstruct skin at the base of the finger. He hoped Marcia would still have a functioning pinky.
"Amputating the finger seemed like it would cause a lot of dysfunction, and it wasn't clear we needed to do that to have a good cancer operation," Slingluff says.
Why Marcia Chose UVA for Her Melanoma Removal
Marcia loved that her UVA surgeons thought they could likely save her finger. UVA was also closer than the other hospital that felt the same way. Her kids knew someone else who Slingluff treated, and they referred to him as "Dr. Melanoma."
Marcia also appreciated Slingluff's communication style — caring, but also clear and direct.
The UVA team initially had some uncertainty around scheduling the surgery — trying to match up two surgeons' schedules can be tough. But Marcia remembers that Kathleen Haden, NP, who works with Slingluff, "was wonderful" with the scheduling and helped navigate her care.
The surgery would happen April 9, slightly over a month after the initial diagnosis.
Finger Reconstruction
Marcia still wasn't sure she'd have that pinky when she woke up from her surgery. Beforehand, she signed a waiver giving her surgeons permission to completely remove her finger if necessary.
Slingluff said he measured 1.5 centimeters around Marcia's melanoma and cut around that line. Because of the melanoma's depth, he also removed lymph nodes under her arm and near her elbow to biopsy. They turned out to be cancer-free.
Marcia was lucky — if the melanoma had been thicker, Slingluff would have needed to take more flesh from the finger, which might have meant losing the blood supply that's essential to mobility.
DeGeorge then used Integra, an engineered skin substitute, and a technique called negative-pressure wound therapy to replace the flesh in Marcia's finger. With this, Marcia's blood vessels grew into the skin substitute, which helped the finger keep its function.
A month later, he operated on Marcia again, taking skin from her thigh to cover the skin substitute. Then Marcia began physical therapy.
Marcia's Melanoma-Free Pinky Finger
"It was really the best of all possible outcomes," Marcia says.
Even though she had physical therapy, her finger isn't perfect and might never be. She can't straighten it completely or make a tight fist. Sometimes she needs help opening jars and stubborn soda bottles, but she's getting stronger. She can hold a trowel when she gardens. She can type and do her job as an administrator for a financial advisor.
Most importantly, she's cancer-free. Slingluff says she has a 10-15% chance of a cancer recurrence. Marcia is now getting checked every six months.
When You Should Get a Second Medical Opinion
After her diagnosis, Marcia had a frantic few weeks, going to five different hospitals up and down the East Coast. She recalls how one person told her he would have just gotten the finger removed already.
"Everyone's different," Marcia says. "A lot of people hear the word cancer, and they can't get it off fast enough. I'm the kind of person — I shop that way too — I want to know what all my options are."
Want a second opinion?

Make an appointment at UVA by calling 888.280.0919.
Slingluff agrees that Marcia was smart to get multiple opinions. "When you're diagnosed with an early stage melanoma, it's not an emergency case like a ruptured colon," he says. "I always advise people in that situation to be comfortable with the plan and take a few days and even a few weeks to make that decision."
DeGeorge agrees. He collaborates with surgeons all over the U.S. and often refers patients elsewhere. "Whenever I'm faced with a patient who I feel like is really struggling with a decision, I very rarely offer surgery after an initial visit," he says. "I feel the relationship between a patient and a surgeon is really critical."