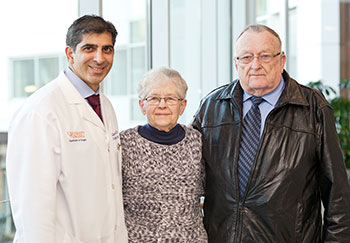 Evelyn Walton loves to work in her garden. She loves fishing with her husband, Frank. And she also loves to stick to her Sunday morning routine, even when signs of heart failure begin to surface.
One Father's Day morning, Frank noticed that Evelyn's right foot and ankle were swollen. He announced, "We're going to the hospital," to which Evelyn replied, "No, we're going to church." And they did.
The next morning, Evelyn began to complain that she couldn't draw a full breath.
Having served as an Independent Duty Corpsman in the Marines, Frank was aware of the severity of her symptoms. And having been married for 58 years, he knew when a strong-willed Evelyn needed an extra push to get help.
So after telling a little white lie to get her into the car, Frank drove Evelyn straight to their doctor.
Time to Act Fast
After noting Evelyn's signs of heart failure – shortness of breath and edema of the leg – their cardiologist referred them to UVA cardiothoracic surgeon Gorav Ailawadi, MD. Evelyn remembers her exam with Ailawadi ending with the phrase, "Admit her right away."
"It was the fastest admission I'd ever seen at any hospital," recalls Frank. "She went to ICU. We had several doctors come in and examine her. One of the first things that they wanted to do was to draw the fluid from her lungs. And she had 839 milliliters of fluid in her right lung. 65 milliliters in the left lung. Once they got that out of her, she could breathe somewhat better."
"She couldn't say a full sentence without stopping to catch her breath, certainly couldn't walk across the room without having to stop," recalls Ailawadi. That's when he knew it was advanced heart failure.
Surviving a Tough Operation
Evelyn went into surgery with two known leaky heart valves, the mitral and tricuspid. But Ailawadi discovered a third leaking valve, the aortic, during the operation.
This made surgery tricky for Ailawadi and his team. But he had faith in Evelyn's strength, and she had faith in them.
Ailawadi cites Evelyn's recent active lifestyle, such as her gardening, as an encouraging sign that she was strong enough to undergo surgery. "Evelyn's strong," says Ailawadi. "When patients are strong and strong-willed, that's usually a really good sign that they can get through a tough operation."
A Coordinated Team for a Complicated Procedure

Other complications happened during the operation. The surgical team found a calcium build-up in Evelyn's mitral valve that had to be removed. They also performed an unplanned ablation to correct an irregularly fast heartbeat that had been weakening her heart.
But with Evelyn's strength and the well-coordinated surgical team – from cardiologists to anesthesiologists to intensive care doctors to sonographers – a remarkable recovery was in the works.
Three days after the surgery, Evelyn finally came to. "They said I was right belligerent at times!" Evelyn laughs. "And they would have to call Frank to come in and check on me, calm me down."
Evelyn found the staff willing to help whenever it was needed. She fast established a bond with her caretakers. "They called me their 'little angel.' I don't know why, but they did," she muses.
Signs of Heart Failure?

If your heart can't pump enough blood through the body, you have heart failure. Read and watch a video on the types of heart failure and the many symptoms to look out for.
A New Person
When asked to recount her journey, Evelyn takes a breath and exhales. "I couldn't do that before. I couldn't take a deep breath, and I knew I was dying because you have to breathe to live. And I was getting to the point where I couldn't."
And now? "I'm really looking forward to going fishing and doing some gardening this year," says Evelyn. "I feel like a new person."
In a recent reunion with Ailawadi, Evelyn was thrilled to see him in person again. "I could hang out with him every day!" she exclaims.
"Hopefully not in the hospital, though!" replies Ailawadi. She pats his hand and laughs. "Oh, not in the hospital! Just fishing and relaxing."
As for the gardening, she's looking forward to spring.
Watch Evelyn's Story