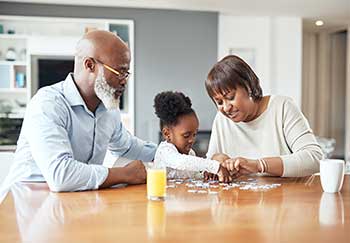 Stay at home, shelter in place, safer at home: Across the country, states and individual counties dealing with the coronavirus outbreak have been ordering residents to stay at home as much as possible. These stay-at-home orders aim to enforce social distancing, a method for slowing down the spread of COVID-19. Governor Ralph Northam announced a stay-at-home order for Virginia residents on March 30th.
We've talked about sheltering in place before. Usually, it's related to a severe weather event or industrial accident. With COVID-19, a shelter-in-place or stay-at-home order will be a little different than those situations. We spoke with Robert Truoccolo, MS, CEM, director of the emergency management team at UVA Health, on how to respond to stay-at-home orders.
Make a Family Emergency Plan
The Centers for Disease Control and Prevention (CDC) and the Federal Emergency Management Agency (FEMA) advise that you start by making a plan for your stay-at-home order. "The best time to prepare is now. Planning ahead can lessen the impacts enhanced protective measures may have on you and your family," says Truoccolo.
Of course, you'll want to make sure you have enough top-of-mind essentials, like groceries and medications. But you should also:
Make everyone in your household aware of the plan and what they need to do to make it happen.
Have an updated list of emergency contacts that includes healthcare providers, the local health department and other community resources.
Share your emergency plans with neighbors, and join local messaging groups to stay in touch with your community.
Create a list of local aid organizations in case you'll need help.
Cover the specific needs of your household, like special diets, allergies, medical and pet needs.
Account for school or daycare closings, so you don't lack resources or activities.
Find more guides and checklists, check out ready.gov from the Department of Homeland Security.
Cough, Fever, Difficulty Breathing?

The symptoms of COVID-19 are similar to those of other respiratory illnesses. If you or a loved one have symptoms, call your doctor or local UVA clinic. If you're unsure where to call, contact us at 434.98.COVID (982-6843).

Think you have COVID-19? Check your symptoms.
Build or Resupply Your Go-Kit
A disaster supplies kit, or "go-kit," is a collection of basic items your household may need in case you need to relocate to another area. Go-kits should be an essential part of everyone's emergency preparedness efforts. Although you won't need a go-kit to fulfill a stay-at-home order, it's still important to have one ready. Things can change quickly, and you want to make sure you're ready when they do.
Take a moment to check the supplies you have on hand. Add additional items you might need for this particular event. "Think about all the essential items you and your family may need during a stay-at-home order," says Truoccolo. "Have pets? Perhaps stash an extra bag of kibble. Taking prescription medications? Make sure they are filled, and change to a 90-day supply, if possible."
Common items in a go-kit include:
Prescription medications
Non-prescription medications, like pain relievers, anti-diarrhea medication, allergy meds, antacids or laxatives
Glasses and contact lens solution
Infant formula, bottles, diapers, wipes, diaper rash cream
Pet food and extra water for your pet
Cash
Toilet paper, feminine supplies and other personal hygiene items
Electronic device chargers
Emergency radio
Important family documents, like copies of insurance policies, identification and bank account records saved electronically or in a waterproof, portable container
Mental health items, like books and games
Check out ready.gov for more kit suggestions.
Prepare for Possible Illness
Right now, the best way for you and your family to keep from getting COVID-19 is to continue practicing social distancing and following good hygiene habits, like washing your hands frequently. If there's a stay-at-home order in place, you can leave your home if you need groceries or have to go to work. But the point of the order is to minimize how much you're in public, so you don't accidentally pick up the virus somewhere.
Even with good hygiene, you should still prepare for the possibility of someone getting sick in your house. You should:
Clean frequently touched surfaces and objects, like doorknobs, light switches and cabinet handles, daily. Regular household detergents are fine to use.
Choose a room in your home that you can use to separate sick family members from the rest. They should also use a separate bathroom, if possible.
The CDC has more guidance on caring for a sick family member.
UVA Health's Response

See how UVA is addressing coronavirus.
Find Ways to Cope
People are social animals. It's part of our nature to want to interact with others. You and your household members will react to social distancing and stay-at-home orders in different ways, some of which you may not have expected.
You'll also likely feel a number of emotions, including nervousness and fear about the future. Find ways to help each other cope. It's good to:
Connect with family and friends online
Maintain routines to help minimize disruption
Slow down, make time to relax
Remember that things will change and strong feelings pass
Take breaks from or reduce how much you watch or read the news
Make sure to talk with each other about the outbreak. Try to stay calm and reassure each other that you'll be safe.
When the Order Comes Down
This is what you've planned for. If your local government does put in a stay-at-home order, it's because there is an active outbreak in your area. Each state or county will have their own set of guidelines about how to protect yourself and what you should and shouldn't do.
Make sure you're aware of the specifics of the guidelines, so you're protecting yourself and others as best as possible. It'll also help you plan when to take grocery trips and where you can go outside for exercise and enjoyment.
Stick to your plan and make sure to:
Check in with friends and loved ones
Stay home if you're sick
Be mindful of you and your household's emotional and mental health
Most importantly: Keep practicing good personal hygiene, social distancing and recommended cleaning habits!