2021 was another hard year. But our team of employees, students, and volunteers rose to the occasion, doing whatever it took to help our patients and our community. Here's one of our favorite stories that helped us make it through 2021.
When COVID-19 first came to Charlottesville, it disproportionally tore through the Black and Hispanic communities. Two UVA doctors, Max Luna, MD, and Amy Salerno, MD, knew what had to be done: They reached out to leaders in these communities and put out a call for volunteers. Hundreds from across the university responded.
In May 2020, UVA Health hosted its first COVID testing site at a local church. Sixteen months later, community COVID testing events are still going strong. They've also expanded: They bring vaccines to our most vulnerable community members.
Each Volunteer Brings a Big Smile & Open Heart
"Our volunteers come from all areas of UVA — from undergraduates, medical and nursing students, to access volunteers, to CMAs, LPNs, nurses, physical therapists, UVA retirees, and other administrative folks," says Mohan Nadkarni, MD, FACP, who serves as medical director of the community outreach effort.
"It really takes a village to provide these outreach events, and each of the volunteers comes with a big smile and open heart to help," Nadkarni says.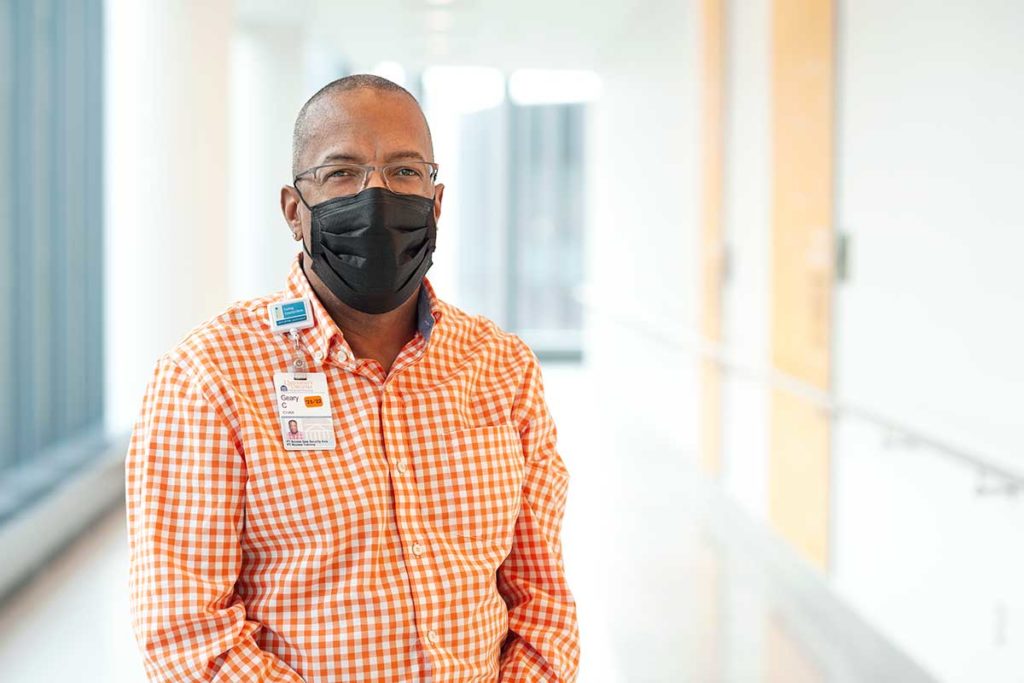 Connected By a Call to Serve
"This amazing team has provided over 12,000 tests to the community," says Novella W. Thompson, director of Population Health in the Office of Population Health & Health Policy. "We have teams that also provide call backs and help for all patients regarding any services they may need, letters for those who need them for school or work, primary care provider set-up, and more."
Thompson adds, "Our lab teams are nothing short of spectacular. They provide results in less than 24 hours. Our nurse practitioners (NPs) work on the backend to provide test results. They work tirelessly both inpatient to serve our community and Medical Center, as well as working the 12-hour shifts to manage call backs and the community call line, which has been a direct source of care to thousands of patients."
What Motivates the Volunteers?
We reached out to a few who've been among the most dedicated. Here's what drives them.
Geary Coles, Revenue Cycle Operations/Access Data Security & Help Desk Analyst
Coles says: "It brings joy to me to be able to do what we do. To help those who may not have the means to reach a testing site. Or they just may not feel comfortable away from the comforts of home. Some team members have even gone to patients' homes to administer testing.
I learned many, many years ago from my mother to do what you can for anyone needing assistance, as long as I can do it. I lived in Chicago for the first 20 years of my life. My mother would give me names of 5 or 6 people on the block and tell me, 'Go out and shovel snow for them and don't you let them give you any money.'
That is why I do what I can for the community.
I have been working the COVID vaccination/testing community events since May 2020. I register the patients for the visit, direct traffic, and do whatever is needed to assist."
When I'm Not Volunteering
"I am one of four team members who cover the Revenue Cycle Help Desk. We receive calls related to registration, scheduling, cash collections, and billing concerns/issues that end users are having within EPIC (electronic medical record system)."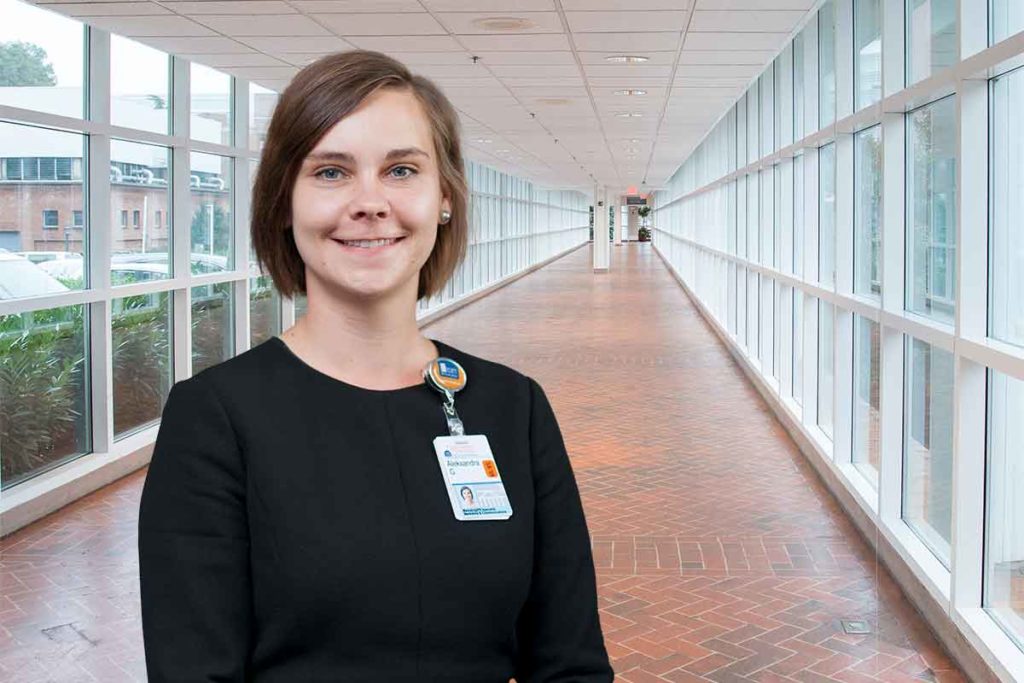 Aleksandra (Alex) Golota, Marketing & Public Relations Specialist, Strategic Relations & Marketing
Golota says: "I began volunteering in November of 2020 after spending a few months at home watching the pandemic unfold and feeling afraid and helpless. I wanted to help and do something.
Since I am not working in a clinical role and am more on the administrative side, volunteering in a general capacity seemed like a good fit for me. Dawn Niles, who also works in my department, was organizing these events at the time. So the opportunity was just waiting for me.
I started helping out with greeting and parking, then moved on to information verification. I helped with the whole event once or twice from start to finish.
After helping with these events for a year, I feel so proud to be working for UVA Health and to be a part of an organization that helps our local community get health resources. I have met so many other people who work at UVA, and I don't think I would have met them otherwise."
When I'm Not Volunteering
"I work as a marketing specialist covering neurosciences, behavioral health, medical subspecialties, and the pharmacy."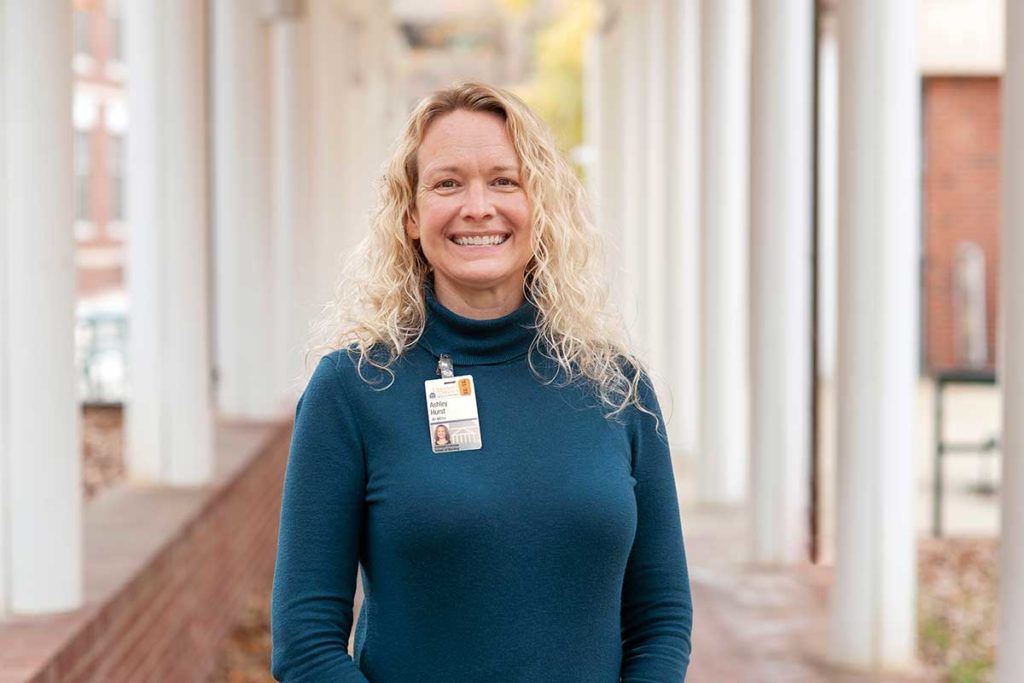 Ashley Hurst, Assistant Professor, Acute & Specialty Care, UVA School of Nursing
Hurst says: "My School of Nursing colleague Sharon Veith put out a call in August 2020 that help was needed for community testing. I signed up as a greeter as it was a non-clinical role. I've been volunteering ever since as a 'runner.' That's our informal name for the person who picks up forms from the cars (where people wait for testing), runs them to the access center, and runs the tests back to the cars.
We don't have to literally run, but I often do on busy nights and to stay warm during the winter months.
I volunteer at the Mt. Zion Baptist Church location, which is near where I live. I walk over from my house on Tuesdays. Working at UVA means I've always had access to testing, but I wanted to make sure my neighbors did as well. With many of my colleagues and friends providing critical clinical care throughout the pandemic, as a non-clinician, I wanted to find a way to help serve our community too. Being a runner lets me do that.
I value the people I've met — other volunteers and people being tested. Most don't see the behind-the-scenes work it takes to run a testing event week after week. I greatly admire the event leaders — Cecelia Magargee, and before her Dawn Niles, and the access leads Deb Reese and Anna Blackburn.
I admire all the Access team members, who come after a full day's work and sit outside in the heat, the cold, and the rain to help people get tested. The testers and assistants, who also come after work to help. All the volunteers who greet, direct traffic, or 'run' with me. I'm grateful to volunteer with such a wonderful group of people working hard to help our community. They inspire me."
When I'm Not Volunteering
"I teach clinical and healthcare ethics to nursing students and students across UVA. I am also a clinical ethicist, part of a team that provides 24/7 on-call ethics support to anyone at UVA Health."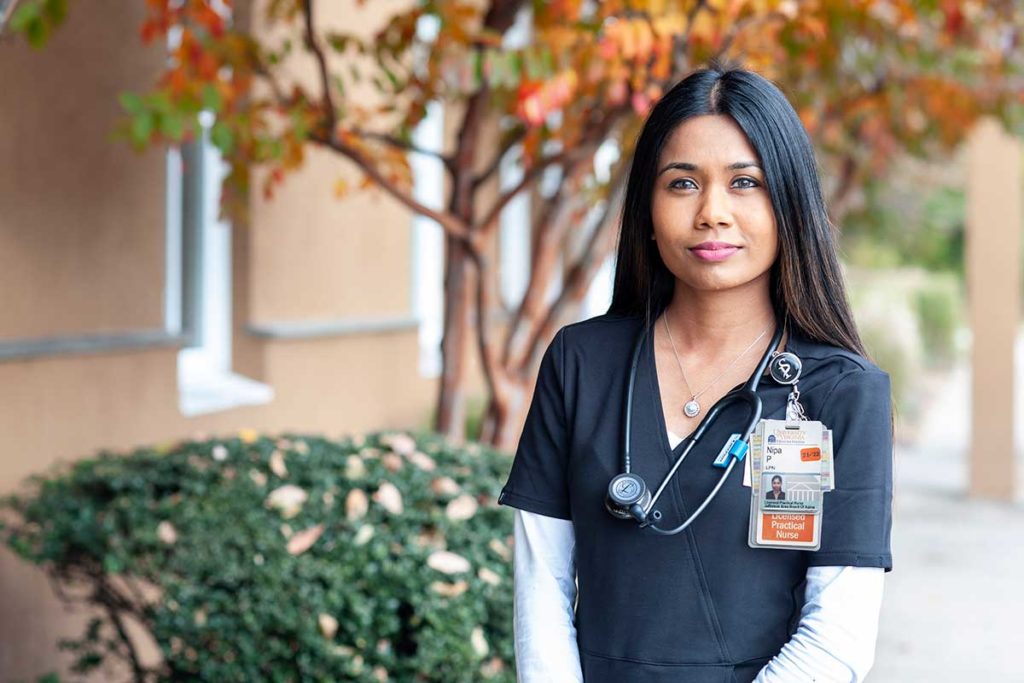 Nipa Patel, Geriatric Nurse at University Physicians JABA
Patel says: "I have been volunteering since July 2020. I test and assist doctors with testing for COVID. I have been volunteering at different communities and school settings since my high school days. I am a very social person, and that motivates me to volunteer. I love to engage with my community and do good in any way I can.
When I first heard about the need for volunteers for COVID testing in the community, I was excited and scared. When I mentioned this to my husband, he stated, 'Being in the healthcare field, you should not be scared. Instead, you should help others because that's what you signed up for when you became a nurse. If you say no and others start doing the same thing, then who will help the community?'
This statement really touched my heart, and the very next day, I signed myself up for volunteer work for the entire month, and I really enjoyed it. Since then and until this day, I continue to help with COVID testing whenever needed."
When I'm Not Volunteering
"At my current job, I am a geriatric nurse. I love working with the elderly population. I like to go the extra mile to make patients feel cared for. It brings me great satisfaction to know I can make a difference to a patient and their supporters during such stressful times."
Michelle Dawson, Critical Care Nurse Practitioner, Thoracic and Cardiovascular ICU
Dawson says: "Covid testing has been a critical component to reducing the risk of spread in the community. Identifying positive cases and referring at-risk patients appropriately has been an essential component to what we do, and why we do it. The work is exceptionally busy. But the patients in the community regularly express their sincere gratitude for the services we provide.
My volunteer work, through the Population Health department, revolves around working closely with the director to manage updating workflows and review/share updated workflows with the other advanced practice provider (APP) team members. I manage this at home, on my own free time. I stay engaged with the director of Population Health to address the changing nature of COVID and to respond to any needed changes that emerge.
I was at the right place at the right time when the APPs at large were recruited to help support the Interactive Home Monitoring Program (IHM) for COVID patients referred from the emergency department, outpatient, and specialty clinics. This program, like the larger Population Health IHM program for patients who leave the hospital, provides remote monitoring of vital signs and other health metrics.
I worked alongside another APP lead and director of Population Health to develop, and continue to adjust, the workflows for community COVID testing call backs, IHM-COVID patients and the community call line. The workflows have been reviewed and refined many, many times over the past 18+ months."
When I'm Not Volunteering
"I'm an acute care nurse practitioner and work mostly in the thoracic and cardiovascular ICU. I take care of critically ill patients right after surgery. I also run the Advanced Practice Provider Fellowship Program. My background is entirely critical care, so my involvement in Population Health programs like IHM and community COVID testing, has been quite the learning experience."
Cecelia Magargee, oversees the volunteers at the COVID-19 Testing events
Magargee says: "​It has been an honor to serve alongside the many staff and volunteers who care so deeply about the underserved population in Charlottesville. The choice was easy for me: event production coupled with community service feeds my soul.
As COVID continues to be a reality, my motivation comes from all of the amazing volunteers I have the pleasure to work with, many of whom I now consider to be friends. And the doctors who founded the program continue to lead us and continue to support this effort, which is phenomenal given they all work stressful, full-time jobs outside of community testing. Our entire team of people are the best there are, giving their time and energy to help others. It is a privilege."
Get a COVID vaccine
The vaccine is the best way to prevent the spread of COVID.
Want to Help?
While the response has been incredible, the holidays bring an urgent need for volunteers at these events:
Mondays 6-7:30 p.m., Church of the Incarnation, Charlottesville
Tuesdays 5:30-7 p.m., Mount Zion First African Baptist Church, Charlottesville
Wednesday events will be added as needed at Church of the Incarnation
We especially need people to serve as:
COVID testers (RNs, APPs, MDs — must be a UVA employee)
Testing assistants
Support (greeters/registration/traffic control)
Spanish-speaking floaters
To sign up, contact Cecelia Magargee at [email protected] or Anna Blackburn at [email protected]. You can also sign up online.