A urologic oncologist at UVA Cancer Center, Paul Viscuse, MD, treats patients with prostate, kidney, bladder, testicular, and penile cancers.
Meet a Charlottesville-Based Urologic Oncologist
We asked Viscuse to answer our 7 quick questions.
1. What has most inspired and shaped your approach to patient care?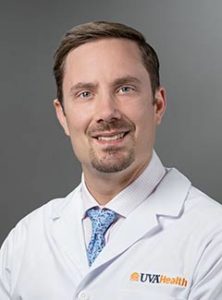 My experience initially as a family member when my mother was going through cancer. I experienced it from the other side of the office room and that has shaped how I approach my patients. I try to provide the most humanistic approach when managing a patient with cancer, and that has followed me through my career.
2. What's your favorite part of your job?
Taking care of patients, interacting with people with all different kinds of values and goals when it comes to managing their cancer, and being able to support them all the way from diagnosis through management, through some of the more difficult times in their lives.
3. What's your biggest fear when you're a patient?
In getting the best care for me as a person or for my loved one? That involves taking in my personal goals and values and not just being treated as another patient in their room and that the provider is considering me as an individual.
4. What do you do for stress relief?
I like to weight-lift. I'm an avid sports fan. I like watching professional sporting events and college sports. I'm also an avid historian. I like to read history, watch history, and listen to history podcasts.
Bonus question: What's your favorite historical time period?
Facing Cancer?
At UVA Health, you'll find seasoned experts in bladder, prostate, kidney, testicular, and penile cancers.
The Byzantine Empire. I think it's an under-appreciated timeframe and it's an empire that's lasted a thousand years and doesn't get enough recognition for that.
5. Dogs or cats?
I am a dog person. I have two dogs.
6. What's the last movie you saw? Thumbs up or down?
I watched Top Gun 2 with my wife in the movie theater and I thought it was an excellent rendition. Two thumbs up.
7. What's the best advice you've ever heard?
The best advice I received was when I was first in college and I was considering different career opportunities. Some told me that maybe medical school was a bit out of reach and I had a mentor sit down with me and say, "You should always try for the thing you love the most and not just settle for what you think you can accomplish." That really resonated with me and is why I'm where I'm at today.