A neurosurgeon at UVA Health, Shayan Moosa, MD, helps patients with conditions of the nervous system, including movement disorders, epilepsy, chronic pain, nerve injuries, and tumors.
Meet a Charlottesville-Based Neurosurgeon
We asked Moosa to answer our 7 quick questions.
1. What most inspired and shaped your approach to patient care?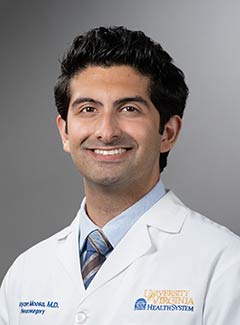 I think what's most inspired my approach to patient care is the experiences I've had with neurosurgeons I've worked with in the past, who've really devoted so much of their time and energy to helping their patients in the best way possible. These surgeons really treat their patients as if they're their own family members. They'll really do anything to help achieve the best outcome. And that's something I've really modeled after.
2. What's your favorite part of your job?
Seeing the profound impact I can have on patients' lives. I can really, truly understand their disease process and combine that with my understanding of the nervous system and my ability to do surgery, in conjunction with the cutting-edge technology that we have at UVA Health. Using all that together, we can have a profound impact on patients' lives to bring them back to their normal neurological function.
3. What's your biggest fear when you're a patient?
Have Essential Tremor?
UVA Health pioneered a noninvasive treatment for essential tremor called focused ultrasound.
Not truly understanding what's happening. All of a sudden you go from having a normal life to suddenly you're deteriorating to a disease process that you've never had before. You don't understand how your body is changing. You may be interacting with several different physicians and may not be getting straightforward answers. You may be getting different answers from different physicians. I think we can alleviate those fears by having someone explain the disease process to the patient very well and taking the time to do that.
4. What do you do for stress relief?
I'm a runner. So at the end of a long day, I like to go home, and usually I'll run outdoors. I find that really meditative.
5. Dogs or cats?
I'm a dog person.
6. What's the last movie you saw? Thumbs up or down?
Everything Everywhere All at Once. It's kind of like a thriller, but it's also a comedy and also sci-fi. And it really deals with how our decisions impact how our lives are shaped.
7. What's the best advice you've ever heard?
Always stay true to yourself. You know, there are many hardships that we experience in life and you can really take on a lot of these things, but if you stay true to yourself and your morals and ideals, then that really gives meaning to the actions that you perform and to your life.