A surgical oncologist at UVA Cancer Center, Todd Bauer, MD, treats patients with pancreatic, bile duct, liver, and gastrointestinal cancers.
Meet a UVA Cancer Center Surgeon
We asked Bauer our 7 quick questions.
1. What most inspired and shaped your approach to patient care?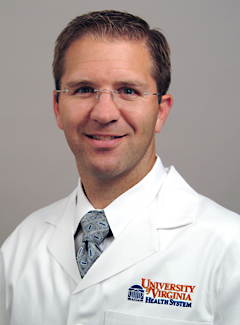 My father, who is a surgeon, was my inspiration to become a surgeon. He and many of my great mentors at Penn and MD Anderson helped to shape my guiding principles of patient care:
Try your hardest and do your absolute best with every patient.
Treat every patient like they were your family member.
Be honest and realistic, but also hopeful and optimistic.
Listen to your patients and hear their concerns.
Ask for help and seek input from colleagues when it might benefit a patient.
2. What's your favorite part of your job?
Being able to use my knowledge and skills to help patients and establishing long-term relationships with my patients.
3. What's your biggest fear when you're a patient?
Are You at Risk for Pancreatic Cancer?
Our genetic counselors can help you understand your risk. We offer regular screenings for patients at high risk, so we can catch cancer earlier when it's more treatable.
That I won't get back to 100% after recovery. This is why it is important for physicians and patients to discuss treatment and recovery and long-term expectations to be sure they have the same expectations.
4. What do you do for stress relief?
I like to exercise daily with cardio and strength training and I love to golf.
5. Dogs or cats?
I actually enjoy both. We have one of each.
6. What's the last movie you saw? Thumbs up or down?
James Bond in No Time to Die. A definite thumbs up, as with any James Bond movie.
7. What's the best advice you've ever heard?
Quote by author Roy T. Bennett: "Do what you love, love what you do, and with all your heart give yourself to it."
Bonus question: November is Pancreatic Cancer Awareness Month. What do you wish more people knew about pancreatic cancer?
Pancreatic cancer is a difficult and challenging disease, but it is not always terminal. We do achieve long-term cure in some patients, and survival rates have improved over the past 20 years. Additionally, there is a lot of exciting research currently underway that will hopefully bring even better outcomes in the future.