Based in Northern Virginia, Aaron N. Sachs, MD, specializes in minimally invasive surgery and flexible endoscopy. He focuses on surgery for weight loss (bariatric) and acid reflux.
Meet a Northern Virginia-Based Weight-Loss & Anti-Reflux Surgeon
We asked Sachs our 7 quick questions.
1. What has most inspired and shaped your approach to patient care?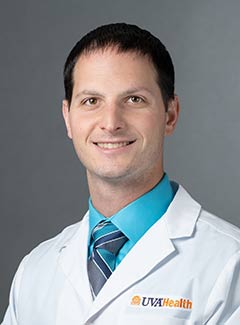 My approach to patient care has been inspired most by my mentors in training, particularly my fellowship director, Dr. Severson. While he is notoriously late (in clinic — not something I emulate) — it is partially because he takes as much time as each patient needs and really explains things. This has inspired me to do the same as best I can — truly to make my patients feel like they are participating in their own care.
2. What's your favorite part of your job?
Meeting many different people with their own stories and being able to do my best to improve something very tangible in their lives. It feels pretty darn good to perform a successful surgery as well!
3. What's your biggest fear when you're a patient?
Hard to say; thankfully I've never really been a patient. But when wife or kids are a patient, I suspect I share the same fear of the unknown that all my patients do.
4. What do you do for stress relief?
I like to spend time with family, watch football, drink good beer, and play guitar to keep me grounded.
Thinking About Weight-Loss Surgery?
We can help you get started.
5. Dogs or cats?
Neither. Not really a dog or cat person.
6. What's the last movie you saw? Thumbs up or down?
It's not a movie, but I'm watching Stranger Things with my wife. Definite thumbs up.
7. What's the best advice you've ever heard?
You can't control events or what other people do in life, but you can 100% control how you react to them.