As an ear, nose, and throat (ENT) doctor, Delaney Carpenter, MD, treats a wide variety of conditions, such as sinus problems, deviated septum, hearing loss, obstructive sleep apnea, ear infections, swallowing problems, and voice problems.
She enjoys taking care of patients of all ages, ranging from babies and young children to older adults.
Meet a Charlottesville-Based ENT
We asked Carpenter our 7 quick questions.
1. What has most inspired and shaped your approach to patient care?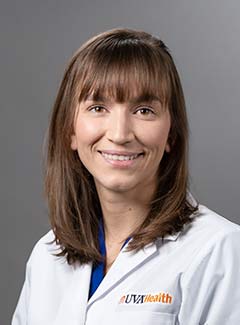 My approach to patient care has largely been formed by working with really excellent mentors within UVA Health, both in the Department of Otolaryngology and other departments through my medical school training.
2. What's your favorite part of your job?
Seeing patients come back and say, "I feel better." And feeling like I've been able to make a difference in their daily life and the way that they feel.
3. What's your biggest fear when you're a patient?
Being diagnosed with something that's either difficult to treat, life-threatening, or life-changing. And there are days where I have to diagnose patients with things like cancer or something that is going to significantly impact their daily life, significant hearing loss or otherwise. And I hope that in those situations I'm able to make patients feel more comfortable and at least try to relieve any anxiety that they may have about those things despite getting bad news.
4. What do you do for stress relief?
I spend a lot of time with my family. I have a toddler, another baby on the way, and a great husband. So we all spend time together; we'll do things outside or just relax at home.
Need an Ear, Nose, & Throat Doctor?
When breathing, swallowing, eating, or hearing become difficult or painful, UVA Health can help.
5. Dogs or cats?
Definitely dogs. I'm very allergic to cats.
6. What's the last movie you saw? Thumbs up or down?
Spirited. It was pretty fun. I wouldn't say it's the best movie in the world, but it was a great movie to watch to get in the Christmas spirit.
7. What's the best advice you've ever heard?
I don't really have anything that totally stands out, I guess. Just depends on the context.