Allan Tsung, MD, is a cancer surgeon (surgical oncologist) at UVA Cancer Center and chair of the UVA Department of Surgery. He helps patients with cancer of the liver, bile duct, and pancreas.
Meet a Charlottesville-Based Cancer Surgeon
We asked Tsung our 7 quick questions.
1. What has most inspired and shaped your approach to patient care?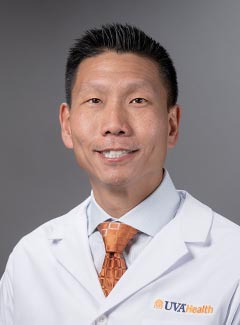 I lost my father to cancer when I was young. The treatments back then were unable to cure my father of his disease. That was unacceptable to me and has fueled my career to always look for novel and personalized treatment options for all of my patients battling cancer.
2. What's your favorite part of your job?
Every day is different. One day I'm in the operating room. One day I'm in the hospital seeing patients. Another day I'm in the lab researching cancer.
3. What's your biggest fear when you're a patient?
Being stuck with a needle. It sounds strange as a surgeon, but I don't like being stuck, personally, myself. I don't look.
4. What do you do for stress relief?
I like to run and hike.
Are You At Risk For Pancreatic Cancer?
If pancreatic cancer runs in your family, you could be at risk. UVA Cancer Center offers genetic counseling and extra screenings for people at high risk for pancreatic cancer.
5. Dogs or cats?
Definitely a dog person.
6. What's the last movie you saw? Thumbs up or down?
I've been watching The Rings of Power on Amazon Prime. I'm a big Lord of the Rings fan. Definitely thumbs up.
7. What's the best advice you've ever heard?
Treat everybody like you want to be treated.