Pelvic floor disorders include urine leakage, bowel leakage, and pelvic organ prolapse. These problems may lead to embarrassment, shame, and a lower quality of life. Pelvic floor specialists (urogynecologists) help patients regain their quality of life. With both surgical and nonsurgical techniques, they can prevent urine and fecal leaks and relieve discomfort.
Elisa Trowbridge, MD, helped write the book on pelvic floor health. Literally. And she's helping patients reclaim their lives so they can get back to doing what they love.
Meet a Charlottesville-Based Pelvic Floor Specialist
We asked Trowbridge our 7 quick questions.
1. What has most inspired and shaped your approach to patient care?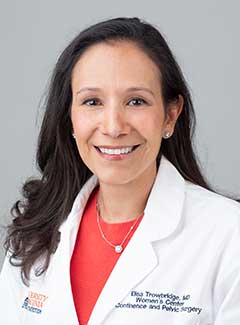 Safety. I've learned when we create an environment that's safe for the patient, everything works better. It's a great feeling to know you've provided care that's the highest-quality and done the best for the patient based on the science.
2. What's your favorite part of your job?
When a patient tells me that they hadn't been able to travel, attend their child's soccer game, run, exercise, or be intimate with a partner. And now, after the surgery, I've completely changed their lives and given them their self-esteem back.
3. What's your biggest fear when you're a patient?
I, unfortunately, had a herniated disc a year ago, so I was a patient for a year and a half. I think my biggest fear was that my doctor would give up on me. And that they wouldn't be there through the condition's slow progress.
It was really important to me to find someone who would be there. Even though the progress was slow and hard.
4. What do you do for stress relief?
I've been doing yoga for 12 years, about 3-4 times a week. I meditate most mornings, and I try and walk 3 or 4 times a day outside for about an half an hour. Also, in the summer, I garden.
Leaky Bladder Holding You Back?
Regain your confidence and improve your quality of life. Let's talk through surgical and non-surgical options to find a treatment that's right for you.
5. Dogs or cats?
I'm a dog person.
6. What's the last movie you saw? Thumbs up or down?
I watched 2 Hearts. It was about a young man who donates his heart to a 64-year-old man. It was an amazing movie.
7. What's the best advice that you've ever heard?
Sometimes, you can't do much about what comes before you. Whether it be a situation, when it's happening, or how it's happening. But you can control your response and your attitude toward it.