People usually only consider calling a midwife for childbirth. But they do a lot more than that.
They can help with:
Fertility tests and treatments
Provide reproductive care
Diagnosing medical conditions
Hormonal changes related to menopause, puberty, or medical conditions
Childbirth
You can see a certified nurse midwife for a lifetime instead of just a pregnancy.
A Certified Nurse Midwife With Years of Experience
Erin Parish-Gibson, CNM, is a certified nurse midwife and an advanced practice registered nurse.
We asked her our 7 quick questions.
1. What has most inspired and shaped your approach to patient care?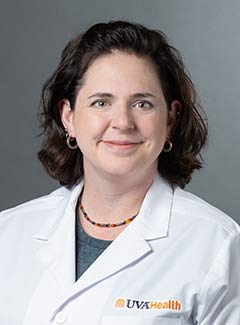 Being on the other side. I feel like it's really important to treat all patients the way I would want to be treated if I was in their shoes.
2. What's your favorite part of your job?
Getting to know people and hear their stories at their initial visits. Then, at follow-up visits, seeing the progress they've made and how positively my care has impacted them.
3. What's your biggest fear when you're a patient?
The lack of control. Not knowing how I'm going to be treated. Knowing that the providers and staff are in the position of power.
4. What do you do for stress relief?
Yell at the TV during hockey games. Garden and camp with my wife and daughter.
5. Dogs or Cats?
I have both and would have many, many more if space and partner would allow.
Considering a Midwife?
Find out more about the wide range of services certified midwives can offer.
6. What's the last movie you saw? Thumbs up or down?
With a 5-year-old, I don't really have time for movies. It's usually more short-feature cartoons. And in our house we watch Bluey quite a bit. Big thumbs up.
7. What's the best advice that you've ever heard?
My parents told me to live your life in such a way that the world is better for you having been here. And make sure that when you look back, you regret the things that you did and maybe shouldn't have, not the things you wish you had done and didn't.