May is Asian American, Native Hawaiian, & Pacific Islander (AANHPI) Heritage Month. This month-long celebration recognizes the experiences, traditions, and cultures of these communities in the United States.
At UVA Health, our medical students are leading the charge in promoting the health and well-being of their AANHPI communities. They also help other healthcare providers learn to provide culturally competent care to members of these communities.
Unique Experiences in Healthcare For AANHPI Communities
Members of AANHPI communities have unique experiences in healthcare, both as patients and as caregivers. We asked Christine Huynh and Davis Tran to share their experiences with us in their own words. Both are medical students and members of the UVA School of Medicine chapter of the Asian Pacific American Medical Student Association (APAMSA). The chapter includes 65 medical students who work to promote the health of members of AANHPI communities.
What Inspired You to Become a Doctor?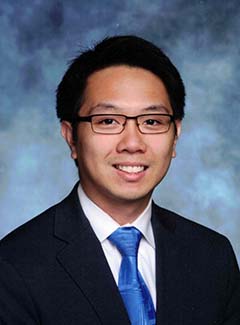 Tran: While there were a number of factors that brought me to medicine, one of the earliest was a memory of my grandmother who was left bedridden after a paralyzing stroke. I remember watching her decline and feeling so helpless, unable to return the care she had afforded me throughout my childhood.
However, she would always smile whenever I sat by her after school loading her feeding tube with formula. From then on, I knew I wanted to help others, to help future patients overcome their challenges no matter how big or small.
Do You Have a Memory of an Interaction That Changed How You Felt About Your Identity? What Lessons Did You Take From It?
Huynh: I went to a mostly white, small private school in Northern Virginia until 8th grade. I always felt left out and constantly worked to gain the approval of my peers. I didn't realize until many years later that perhaps it was because I was one of two Asian American females in the grade.
When I transitioned into public high school, I immediately felt a greater sense of belonging with the stark increase in diversity of the student population. I met friends who grew up with the same culture, parental dynamic, and ideals as me, who understood me.
Instead of trying to be like everyone else, I began taking pride in how I was different from the majority and offered an additional lens on life. This experience helped me appreciate how important it is to have community and representation for Asian Americans like me to thrive.
What Health Issues Are Members of AANHPI Communities More at Risk For?
Cancer is the #1 cause of death in Asian Americans. The risk for stomach and liver cancer are particularly higher. Diabetes and hepatitis B is also prevalent.
What Do You Want Members of AANHPI Communities to Know About Getting Care at UVA Health?
UVA Health strives to provide care to the whole patient, which involves a holistic approach focused on health and well-being. Above all, patient safety is prioritized with treatment plans driven by patient goals centered on a mutual patient-provider partnership.
What Do You Want Healthcare Workers to Know About Treating Members of AANHPI Communities?
Asian Americans are more likely to develop type 2 diabetes compared to whites, despite having lower body weight and body mass index.
They're also less likely to express mental health concerns, as there is a mental illness stigma, and might present with more somatic symptoms. This is particularly important for adolescents who may be struggling to reconcile the American culture they grew up in and the Asian culture of their parents.
How Can Healthcare Workers Provide More Culturally Competent Care to AANHPI Communities?
Diversity, Equity, & Inclusive at UVA Health
Creating an inclusive environment that values diversity is central to our mission.
They can appreciate the value of non-Western remedies such as acupuncture and medicated oils to certain patients, as well as non-traditional belief systems on illness and healing.
They can ask about their diet in an open-ended way.
Some Asian Americans may view physicians as the ultimate authority and not as readily express their perspective as part of a doctor-patient partnership. It is important to keep this in mind when communicating a treatment plan.
What Does This Month Mean to You Personally? How Are You Celebrating?
Tran: AANHPI Heritage Month is a time to reflect on how we stand on the shoulders of giants, to reflect on our humble beginnings as we celebrate, honor, and thank those that paved a path of opportunity for us.
For me, that's my mother, who immigrated to the U.S. as a boat refugee shortly after the Vietnam War. Like many others, her early challenges of adapting to a new language and starting anew with what she could carry with her own two hands tells not only a story of sacrifice, but also resonates a story of resilience.
Celebrating AANHPI Heritage Month begins right at home with cooking classic dishes infused with nostalgic aroma that defined my mother's childhood such as thịt kho/braised pork belly and canh chua cá/tamarind fish soup.
The celebration then continues in the community festivals with various cultural events featuring foods, performances, with arts and crafts.