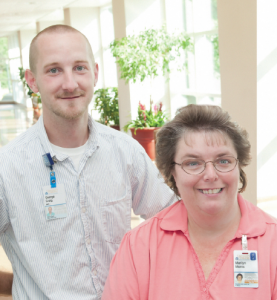 Our health unit coordinators are the first people patients and families see when they go to a hospital unit.
The coordinators greet visitors and patients, order supplies and linens and help with administrative needs.
Our units just wouldn't run the same without them. That's why we give out two special awards to our health unit coordinators, who are also known as HUCs.
Health Unit Coordinator Customer Service Award
Marilyn Morris is the health unit coordinator on 8 West, where our geriatric and palliative care patients stay. She greets everyone with a smile, uses humor to brighten others' days and anticipates needs with cheer.
"One of the things Marilyn is good at is realizing and remembering things the patient needed or liked with their previous visits. So, when the patient gets to the floor, Marilyn makes sure everything they need is set up for them. Marilyn truly thinks about each patient during the course of the day and works on finding ways to make their stay more pleasureable," says Jeryl S. Cohen, RN, who nominated Morris for the award.
"Marilyn is extremely bright and so capable. She has the gift of hospitality and welcoming everyone," says Lisa McNerney, RN.
Health Unit Coordinator of the Year
George "Billy" Craig is the health unit coordinator on the Short Stay Unit. Craig also won the Customer Service Award in 2009, showing how much he truly stands out Here's what his coworkers have to say:
Karen Maxton, laboratory supervisor, says, "He always has a smile on his face (even at 6:00 in the morning). He is always willing to go the extra mile for me. If he does not know the answer, he goes above and beyond to find out. Billy does not just sit at the desk and call, he physically gets up and goes for help."
Greg Patterson, RN, says, "Billy comes in early to support staff on critical patient load days even though he is not required to do so. The unit survives, but does not 'flourish,' when Billy is not there in charge of the rudder."
"Billy comes in early and anticipates everyone's needs," says nursing student Melissa Riddle. "He knows where to obtain needed supplies for the patients and their families. He should not only be HUC of the Year, but also maintenance, housekeeping, supply clerk and sometimes social worker of the year!"