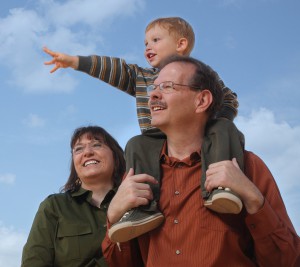 The birth of their first grandchild nearly three years ago inspired Bob and Mary Brittain of Lake Monticello, Va., to get healthy.
The couple, both retired from the U.S. Air Force, were overweight with accompanying health problems: high blood pressure and arthritis for Bob; high cholesterol, depression and sleep apnea for Mary.
"I knew we had to do something so we would live long enough to enjoy this grandchild," recalls Bob.
After years of "yo-yo dieting," Mary says, the Brittains had weight-loss surgery at UVA — on the same day in August 2009.
"We would have to follow the same diet plan and the same restrictions, and we thought it would be easier if we both just followed the same restrictions at the same time," Mary says.
What is Gastric Banding?
The least invasive of all weight-loss surgery options, gastric banding involves the insertion (through a tiny incision) of a silicone band that's wrapped around the upper portion of the stomach. This reduces the amount of food patients can eat.
Gastric banding may allow patients to go off diabetes medication and may reduce the chances of death or complications from weight-related diseases like diabetes and heart disease.
"Gastric banding is not a magic bullet. You have to be willing to eat a healthy diet and exercise regularly after this surgery," says surgeon Peter Hallowell, MD, director of UVA's bariatric program, who performed the Brittains' gastric banding procedures.
Less Weight, More Energy
Bob, who is 52 and weighed 264 pounds before surgery, lost about 100 pounds the first year. He now swims one to three miles each week, takes walks and plays racquetball.
He is off high-blood-pressure medication, and his arthritis pain is significantly reduced.
Mary, 48, admits she hasn't exercised as faithfully, but her weight dropped from 217 to 165 pounds and she no longer needs cholesterol medication.
Her sleep apnea also improved, so she doesn't need her nighttime breathing machine anymore.
"I don't get out of breath as quickly as before, and I have more stamina when exerting myself," Mary says. "I'm in a much better mood with less anxiety."
Adds Bob: "I feel like a young kid again. Now I can have fun with my grandson. We run and play like the wind."
Take a look: We offer several weight-loss surgery options
Is Surgery an Option for You?
The U.S. Food and Drug Administration (FDA) recently lowered the weight requirements for gastric banding.