Like many of you, we're taking a moment before the start of the new year to pause and reflect on the highlights of 2011.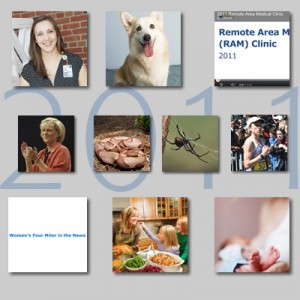 Considering what's been of interest to you will help us bring you even more to enjoy in the coming months.
So, here are the most-read stories from our blog in 2011. Drumroll, please!
The most popular story of 2011 inspires: UVA Nurse, Marathoner Has Shot at the Olympics
Great pictures and a worthwhile cause: Photos from Remote Area Medical Clinic (RAM) 2011
Always a favorite: Women's Four Miler in the News
Debbie Ryan's story is a must-read: Pancreatic Cancer: Debbie Ryan and Why You Should Care
Who doesn't like cute photos of dogs helping kids? Pet Therapy Dogs
How you can get help Preparing for Childbirth: One Expectant Mother Tells Her Story
What to look for when it comes to Poisonous Snakes: Just Leave Them Alone
A sweet, uplifting look at our tiniest patients: Breastfeeding in the NICU
What you need to know about Spiders: Fact vs. Fiction
What's Your Favorite Story?
Take a minute and let us know – which is your favorite story from our blog? What topics do you want us to cover in 2012? Leave a comment with your choices and ideas below.