Eighteen people die each day because there aren't enough organs available for those in need, according to the U.S. Department of Health and Human Services.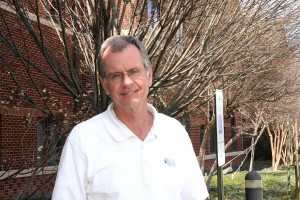 Eighteen.
And there are more than 100,000 people on the waiting list for organs nationwide, including 759 UVA patients. For many of those waiting, time is limited.
Organ Donation: What Can You Do?
Many people agree to donate their organs when they die. It's called a deceased donation, and it's as easy as checking a box when you apply for a driver's license. Some even donate a kidney or a part of their liver to a friend or family member. That's called a living donation.
Laurie Miller of Harrisonburg donated one of his kidneys as part of a living donation. But Miller donated to a stranger. It's called an altruistic (or non-directed) donation and it's fairly uncommon, according to Anita Sites, RN, who coordinates and manages care for patients in UVA's Living Donor Program. There are about one or two altruistic donations a year at UVA, she says.
Donating a Kidney to a Stranger: The Importance of Service
Miller, 59, is director of student programs at Eastern Mennonite University. He first considered donating a kidney 20 years ago, when he heard about a Broadway, Va. man who donated a kidney to a stranger. The man's daughter was a student at Broadway High School, where Miller worked as a guidance counselor at the time.
"It caught my eye and I thought, 'Well, that's something I could think about doing,'" says Miller.
Miller grew up in the Church of the Brethren and he's now a member of the Mennonite Church. In both churches, he says, "There's a real emphasis on service and living your life as Christ would, so you look for opportunities to do things like this." Miller's daughter, a recent college graduate, is working in Southern Mexico for a nonprofit, and Miller has done multiple week-long mission trips with his church. Last year, he went to Pulaski, Va., to rebuild houses destroyed by a tornado.
National Attention on the Need for Organ Donors from an NBA Star
Miller put the idea of organ donation on the back burner, but a few years ago, he read a Sports Illustrated article that got his attention. NBA star Alonzo Mourning had kidney disease and needed a transplant. Six hundred fans came forward to offer the basketball player a kidney, and Miller wondered why they would do that for the sports star and not for a "regular" person.
The Mourning story inspired Miller think about donation again. He talked to his doctor, who encouraged him to research the topic before making a decision. Miller did his research and looked into the risks. He then chose UVA, which is close to his home. UVA doctors also happen to be some of the most experienced in the region; last year, they performed 174 heart, lung, liver, kidney and pancreas transplants.
The Organ Donation Process
All potential donors at UVA  — whether they're donating to a stranger or someone they know — undergo a thorough medical exam with blood and urine tests, X-rays and CT scans, as well as a psychological evaluation, says Sites. The evaluation process takes about 8-10 weeks.
"They are looking out for your health to make sure you can handle it," Miller says. He had many of his tests done closer to home for convenience, and the results were sent to UVA.
Living donation doesn't cost anything for the donor, other than transportation costs, says Sites.
Donors are assigned an independent team of nurses, a social worker, nutritionists, pharmacists, a medical doctor and a surgeon. There's also a separate team that works with the organ recipient.
"The majority of donors know they want to donate to their mother, their sister or someone else they know," says Sites. Altruistic donors like Miller are matched up with another UVA patient who will receive the transplant, Miller says. (Deceased donors' organs can go anywhere in the country.)
Surgery and Recovery
Miller scheduled his surgery for December 2011, when it was easier for him to take time off from work from Eastern Mennonite. He was up walking the next day as part of his recovery. Miller spent two nights in the hospital and started going on long walks at home within a week.
"I was pretty much fully recovered after three weeks," he says. "And I don't feel any different today than I did with two kidneys."
He's had two follow-up visits, with a few more to come.
Like all living donors, Miller was in excellent health before the surgery. He played basketball, took long walks and worked out in the weight room a few times a week. He's back to all of those activities now that he's fully recovered.
"It's inconvenient for a little while, but it doesn't affect your quality of life in the long run," he says.
A nurse coordinator at UVA will follow Miller for two years, says Sites. The nurse will ensure there aren't any health issues as a result of the organ donation. Miller doesn't know who received his kidney, but he will have the opportunity to meet the person one year after the transplant if both parties agree.
Interested in Being a Living Donor?
If you're interested in living donation – for a stranger, a friend or a family member — you must meet these minimum requirements before an evaluation at UVA:
Excellent general health
Donor age: Kidney: 18-70 years; Liver: 18-55 years
Check out the transplant section of our website or call 800.543.8814 or 434.924.8604 for more information.
Want to Donate Your Organs When You Die?
If you haven't already checked that box on your driver's license application, here's what you can do:
Register to donate your organs when you renew your license with the Virginia Department of Motor Vehicles. Check out the DMV site for more details on how to donate.
Sign up through Virginia's donor registry. Their simple form is a good idea if you don't need to renew your driver's license soon.
Check Donate Life America for organ donation information for each state.
April is Organ Transplant Month, so it's as good a time as any to make the commitment to donate life.
Later this month: Check back on April 23 to read the story of a UVA employee who received a kidney transplant.