Harold Skinner and Tony Turner both spend about 12 hours a week hooked up to a dialysis machine, but neither complains.
Reclined in comfortable chairs in front of a window looking out at the nearby mountains in rural Stanley, Va., the men say that if you need the treatment, this is where you want to be.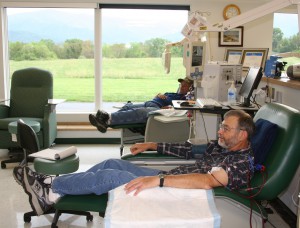 "If you've got to do this, it's great to be within a few minutes of your house," Skinner says.  "Fifteen minutes and I'm here."
The closeness to home is a big deal given the time needed to complete a dialysis session, and it helps to explain the concern that rippled through the community when the UVA Dialysis center in Page was slated for potential closing in 2010.
Patients on dialysis are often unable to drive, and the ability for many Page residents to get to clinics in Harrisonburg or Charlottesville was uncertain.
It's likely many would have stopped treatment altogether.
"The community really rallied behind this clinic when the word came out that we could be closing," said Susan Lucas, RN. "It's very fortunate that UVA listened to the demand for the clinic and the need for it."
Unsurpassed Dialysis Safety
The Page clinic is one of the eight dialysis centers in the UVA Health System. All eight were recently honored by the Mid-Atlantic Renal Coalition as 5-Diamond Patient Safety Facilities, meaning more than half of the 15 centers in Virginia with 5-Diamond status are UVA affiliates.
UVA Renal Services cares for 800 patients throughout central Virginia.
Debbie Cote, RN, the dialysis administrator at UVA, says factors behind the designation include a number of patient safety initiatives, ranging from making sure everyone is washing their hands to taking extra care to prevent slips, trips and falls.
"It's extra work," Cote says of making the effort to make the grade. "People always say we have too much to do, but it's good for the staff and it's good for the patients."
Seeing a Difference in Page County
The clinics do not really tout the designation, but in Page County, Skinner says the commitment to safety is evident.
Skinner says he's used other dialysis clinics where it seemed that "corners were cut." That's not a feeling he gets in Page County, which he calls the best clinic he's been in, mostly due to the staff.
"I think it's just the fact that they take their job so seriously," Skinner says. "It's a safe environment."
Kathy Chappell, a social worker at the clinic, says developing a close relationship with the patients she sees so often is one of the happy by-products of the work.
"We refer to this as our dialysis family," says Chappell.
In addition to the clinic in Page County, UVA operates the Kidney Center in Charlottesville and outpatient clinics in:
There are no announced plans for additional facilities right now, but Cote said additional facilities are likely needed to meet a growing demand.
She says, "We are always looking at where there's a need and where we need to go next."