UVA's doctors and nurses care for patients in Charlottesville every day, but their service doesn't stop in Virginia. Each year, many of our healthcare professionals volunteer to provide free medical care to people in need throughout the world.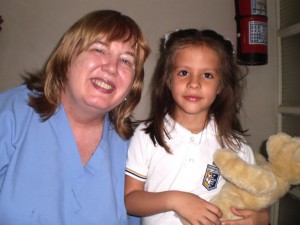 Volunteering in Bolivia
Like many at UVA, Trena Berg, RN, clinical manager in the operating room, has volunteered at the Remote Area Medical Clinic (RAM) in Wise, Va. Last year at RAM, we saw and treated over 1,000 patients in two and a half days for conditions ranging from high blood pressure, diabetes and heart disease to arthritis, depression and pulmonary disease.
But in March, Berg, who's worked at UVA for 11 years, got the opportunity to use her skills in Bolivia.
She went to Santa Cruz, a city of almost 2 million people, with other volunteers from Mission of Hope, Bolivia, a nonprofit organization based in Charlottesville that provides free medical care to the people of Bolivia, many of whom can't afford even the most basic care.
"They just don't have the resources in Bolivia. Even the poorest people here in the United States have more resources than their people have," Berg says.
"If somebody comes to UVA with a problem, we're not going to turn them away. In Bolivia, if they can't pay, they're not going to get help."
Mission of Hope is a faith-based organization, and volunteers, who come from all over the United States, go to Santa Cruz for two weeks in the fall and two weeks in the spring each year to perform surgeries. The organization continues to provide other healthcare services in Bolivia throughout the year. Springtime volunteers perform ear, nose and throat surgeries. Volunteers in the fall provide gynecological services and general surgeries.
50 Surgeries in 5 Days
Volunteers set up a fully working hospital for those one-week trips, complete with a kitchen, laundry facilities and two operating rooms. They performed over 50 surgeries in five days. Procedures included rebuilding eardrums, thyroid surgeries and neck gland removal, tonsillectomies and sinus surgeries to remove polyps.
Operating rooms were "no frills," Berg says, but they were clean and well-equipped, albeit with manual equipment rather than the digital equipment used in this country.  The volunteers all brought checked bags full of supplies with them on the plane, including instruments and IV fluids.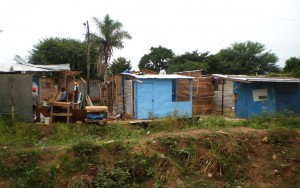 Lyn Wells, MBBS, FRCA, an anesthesiologist at UVA, made her fifth trip to Bolivia in March.
The surgery process for patients starts the night before the procedure, Wells says. Patients are given toiletries so they can wash their hair and brush their teeth. They're given a bed with clean sheets and a snack. These are things that might not have at home, she says.
And patients aren't sent home right after their surgery. They usually stay a day or two to recover, Wells says. "We keep them to make sure they're healing properly. We want to keep the wounds clean and make sure they rest and eat properly."
Many times, the surgeries are important not just for the patients' health, but also for their overall well-being, says Berg. People with deformities are shunned in their communities and often have a hard time finding work and supporting their families, she says.
"We're a little more accepting in the United States of differences in other people."
Berg got to meet a woman who had a huge tumor removed from her face last year. "She can now work. She came to one of our devotions and it was awesome to see her."
Rewarding Work
For Berg, the work was gratifying and she saw immediate results, like a woman who had her hearing restored with a prosthesis. "She hugged me and she kissed me. She was so excited. She has 12 children and she could hear them. She was just so grateful to be able to hear them," Berg says.
Patients come from long distances for their surgeries, many from as much as 8-10 hours away. Patients include native Bolivians and members of the country's large Mennonite community. Mission of Hope, Bolivia ensures that patients are sent home with grocery money and funds to pay bills during their recovery time.
Berg used personal leave hours for her time away from work. "It was worth it," she says.
"It was just a very heart-warming experience for me to have people just so appreciate of what you do," Berg says. "It would be really nice if everyone could have the experience of going and helping others, whether it's in this country or another country."
"It's been a blessing to us to take care of them," adds Wells.
UVA-Guatemala Initiative
The UVA-Guatemala Initiative (UVA-GI) is a university-wide collaboration started in 2007 by UVA emergency room doctor David R. Burt, MD.
Some participants work in hospitals and clinics in rural parts of Guatemala and are supervised by U.S. and Guatemalan doctors. Others work on community-based research projects on topics like emergency medical systems and water health issues. Recently, faculty and staff participated in faculty development seminars in Guatemala, which is one of the poorest countries in Latin America. More than half of the population lives in poverty, according to the World Health Organization, but it has a rich and diverse culture with many opportunities for partnership, says Burt.
All UVA-GI participants learn to speak Spanish before they go and receive an intensive orientation to the country and its people when they arrive. They're also encouraged to explore the Guatemalan culture and build relationships with the people of of the country, Burt says.
UVA-GI includes students, residents and faculty from the schools of Medicine, Nursing and Engineering and the university's College of Arts and Sciences. Burt — who also is a leader for of our RAM efforts — recently won an Excellence in Education Abroad Award from the university for his efforts running the program.
The program has a lasting ripple effect — here and in Guatemala, he says. The new language and cultural lessons are things faculty and students can bring back to the United States and use to provide better care to our patients.
"What better way to learn than to be fully immersed," Burt says. "It's a powerful way to build community."
Learn More
Remote Area Medical Clinic (RAM)