The Health System's cafeterias are a good place to pick up a sandwich or a hot meal, but most wouldn't expect to find fresh, local cherries and peaches available by the pound.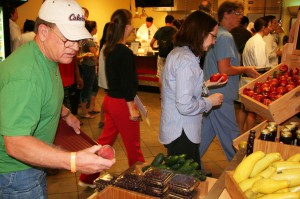 But that's changing, thanks to a partnership between UVA and the Local Food Hub. For the past three summers, Local Food Hub has supplied us with locally grown produce, and we've used it to set up a seasonal farm stand in our cafeterias.
Local Food: Better for the Community, Better for You
Local Food Hub is a nonprofit distribution center started in 2009. It works with about 75 farms in central Virginia to bring seasonal fruits and vegetables to schools, businesses, restaurants and other organizations.
UVA cafeterias serve local food via Local Food Hub whenever possible. The farm stands began in 2010. They go up around Memorial Day and run through Labor Day, providing Health System staff and visitors with a convenient way to buy local cherries, honey, peaches and other items.
"Customers love the service and the availability," says Wendy Phillips, director of Nutrition Systems at UVA. "Each year we expand the product line. This is the first year we've had the local bottled water as an option."
The produce varies throughout the summer; one week in June, nectarines, peaches, raspberries, cucumbers and honey were among the items offered. Selection depends on what's growing and what UVA requests.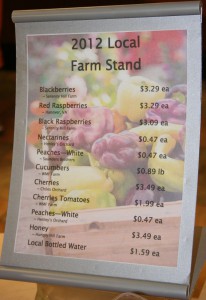 Heirloom tomatoes are popular at UVA, says Emily Manley, Local Food Hub's outreach and development director. "Tomatoes are one of those things where you can really tell the difference between a local, fresh one and one that was picked while green and ripened in a warehouse," she says.
The stand helps employees and visitors pick up dinner ingredients without a trip to the grocery store, but there are other benefits. Phillips points out that buying from local growers keeps money in the community and has less impact on the environment than food that travels across the country in a truck.
Plus, fresher produce has more nutrients and eating local honey can help prevent seasonal allergies, Phillips says.
Increasing Access to Central Virginia's Food
Central Virginia produce goes way beyond strawberries, apples and peaches.  Manley says a surprising variety of produce can be grown locally. That includes kitchen staples like:
Onions
Potatoes
Tomatoes
Peas
Lettuce
Zucchini
There's less produce in January and February, but kale, swiss chard and lettuces grow well throughout the winter, and apples store for a long time, Manley says. "We would love to see even more food growing throughout the winter season."
So Local Food Hub also works with growers to teach them more about methods like tunnel farming, which insulates fruits and vegetables and keeps them warm with sunlight.
Another new initiative is its Incubator Plot program: Local Food Hub offered a Scottsville couple an acre of land so they can learn more about farming. The husband and wife are, in turn, selling produce, plants and seeds throughout the community, including at a small market at Fontaine Research Park — another chance for UVA employees and patients to easily buy local.
Want to Go?
Here's when you can buy fresh, local raw fruits and vegetables at UVA:
The farm stand runs daily in the University Hospital cafeteria and every Thursday and Friday at the West Complex and Transitional Care Hospital cafeterias. It's scheduled to end Labor Day and begin again in May 2013 but may last throughout the year depending on item availability.
The farmer's market at Fontaine Research Park is in front of the building at 400 Ray C. Hunt Drive on the second Thursday of every month from 4-6 p.m. through October.