Did you know that Vim & Vigor, UVA's award-winning family health magazine, is online? Check out the fall issue now.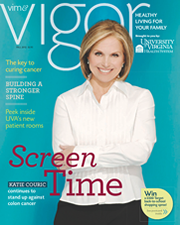 Here's a glance inside:
Spinal Fusion: It's a commonly performed back procedure. But it's most successful when done for the right reasons.
Congenital Heart Defects: Two Virginia women were born with the same severe heart condition. One nearly lost her life. The other is ready to start a family. What made the difference?
100 Percent Cure Rate for Cancer? For a UVA cancer doctor and researcher, this isn't just a dream.
A Healing Environment: Peek inside UVA's new patient rooms — designed with healing and comfort (for the patient and whole family) in mind.