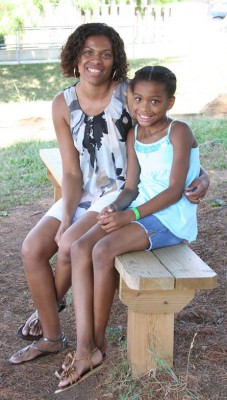 When a former co-worker of mine told me that his wife, mother and one of his daughters would be running together in this year's Charlottesville Women's Four Miler race, I was excited to meet them.
But when I met up with Cortney Davenport I was a little confused. Of the three children with her on the playground, I didn't see any who looked old enough to be running four miles.
Well, I had a lot to learn. As it turns out, one of those kids is not only ready to run with her mom on September 1, but in fact, Breana — Cortney's self-composed, long-legged 9-year-old daughter — started running years ago, when she was just 5.
I did not have to fake being impressed.
After shaking my hand and giving me a shy smile, Breana explains that she started running with her dad. "We ran together on daddy and daughter dates," she says. "I thought running was really fun, so I started racing against my dad when we went to the track."
This is her first actual race.
It's her mom's first time running, too.
Cortney admits, "Even though I've done the training program for years, I'm a little scared; my friends did the run last year and they were talking about how much pain their legs were in."
Pain or not, Cortney looks forward to bonding with her daughter. "It will be good to spend quality time alone with just her. And her grandmother's doing it too, so it's three generations getting to know each other more and having a great experience together. Sharing the race: It's a new way to bond."
Cortney laughs. "Brie and I will probably walk, do short sprints. But my mother-in-law, she's in better shape than both of us; she can run rings around us."
A Run, Not a Race
Still, for Cortney, the Four-Miler Event is definitely not about competition.
"The run isn't a race," she says, emphatically. "It's for a cause, it's for your health. But it's more than for you, it's for something bigger than you."
Spurred on by coworkers, Cortney initially joined the training program to get back into shape after having children.
"The first time I did it, I thought, 'It is too early in the morning, how can these women be this happy?' But then you start to see the camaraderie and all the women coming together for this great cause, and you start to realize there's a message in that happiness."
Eventually, the training connected to Cortney's personal experience and gained deeper meaning. Her mother died from renal failure and diabetes when Cortney was just 21.
"I know how it feels to lose a parent to a disease you have no control over," she explains. "The point of raising money to stop this disease that kills so many mothers reached me. Nobody wants to lose a parent. I wanted to start doing something to give back."
Role Models
As we watch her younger daughter strap on roller skates, I ask Cortney how living a healthy lifestyle plays a role in her parenting and family life. It's not surprising that teaching her kids how to eat well and stay active is a priority: "I want to do whatever I can to prevent what killed my mom happening to them."
In addition, a huge part of helping her kids learn to take care of themselves is by providing herself as an example.  Running the race is one powerful way to "step up and be a model for them."
As we say goodbye, I can't help thinking that Cortney models something for all parents in this community — she's not just being healthy herself while supporting a cause; she's doing it with and for her kids, too.
I can't wait to tell my daughters about Bre and the Four Miler. Maybe after I show them this story, we'll go for a run.
This year's Four Miler is Sept. 1 and will again raise money for the UVA Breast Care Center. Are you participating? Leave a comment to share your story with us.