There's no better way to ensure a lifetime of good vision than by getting regular preventive care for your eyes.
UVA is still the place to come for high-risk corneal transplants, eye tumor care and all manner of ocular surgery, but UVA ophthalmologists want you to think of them for all of your eye care, and even as the place to get your contact lenses.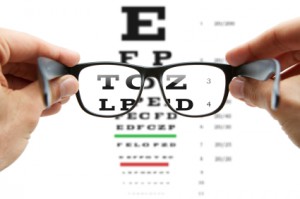 The ophthalmologists at UVA have numbers to back up the renewed push into primary care, with Ophthalmology Department Chair Peter Netland, MD, PhD, noting a 25% growth in the eye clinic over the past two years.
"We want people to have a great experience when they get here," Netland says. "We want them to come back and get all of their care here."
Why Do I Need an Eye Appointment?
Routine care, like prescriptions for glasses and contacts, is important, but our doctors can also diagnose and treat some very serious and common eye conditions, which with early intervention can often be treated.
They include:
Glaucoma
Macular degeneration
Retinal Detachment
Amblyopia (lazy eye)
UVA is also the only place in Virginia treating eye cancer, and it's one of the only places offering cornea transplants.
It's important to make an appointment to take care of your eyes even if you don't think you need glasses or contact lenses.
Some research shows that as many as 20 percent of adults who do not wear corrective lenses have never been to an eye doctor, leaving them vulnerable to preventable eye disorders.
Netland says the eye specialists at UVA welcome the change of routine that can come with primary care eye exams, and he notes the excitement among the staff.
"Faculty has stepped up and been great and pretty enthusiastic about it," Netland says. "It's nice not to always be dealing with specialty care."
Primary eye care offers up "a different kind of challenge," Netland says.
Seeing Right
While checking the health of your eyes, Netland and his team also want to make sure you aren't straining to see or read, and a standard vision check is a major part of a comprehensive eye exam.
UVA can order contacts for patients at what Netland described as "great prices" and can mail them to you, as well.
The clinic does not sell eyewear, but can send your prescription to the provider of your choice.
It's still early days for primary care eye checks at UVA, but Netland says he hopes the UVA community will give them the chance to be their eye care provider.
"We're trying to exceed expectations," he says.
Learn more about eye care at UVA.