Like so many of us, Milisa Galazzi was having trouble sleeping.
A busy artist, mother of teenage sons and manager of her family's day camp, Galazzi assumed that lying awake for part of the night just came with the territory of keeping track of so many responsibilities.
It took an almost sleepless sleep study for her doctor to suggest the difficulty in getting to sleep could actually be a sleep disorder.
"I had no idea I had insomnia, I just knew I had trouble sleeping," Galazzi says. "I guess my insomnia got so bad over time that I did not realize how bad it actually was."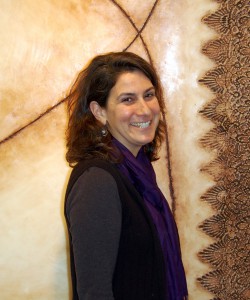 Galazzi, who lives in Rhode Island, says she was interested in learning how to sleep better but did not have the time to travel two hours away to a sleep center. It was then that her doctor suggested she consider SHUTi, an Internet-based behavioral therapy program that researchers at UVA have been fine-tuning for nearly a decade.
Says Galazzi: "Because SHUTi is online, my doctor thought it might be a good solution given my schedule. He was more than right!"
Sleep Health: The Online Program
Psychologist Lee Ritterband and his UVA colleagues have long been interested in the intersection between technology and therapy.
In 2004, a grant from the National Institutes of Health (NIH) allowed them to build their SHUTi (Sleep Health Using the Internet) program.
The system uses a combination of the traditional cognitive behavioral therapy strategies used to treat insomnia with additional technologically enhanced exercises available to anyone with an Internet connection.
Users of the program keeps a regular online diary of their sleep experiences, and the program customizes its recommendations based on the input. So each user has a unique experience and receives personalized instructions.
The SHUTi program aims to get a user to roughly 85 percent "sleep efficiency," meaning that 85 percent of the time spent in bed is spent sleeping, which doctors typically think of as the goal for 'normal' sleep.
"As a user, you put in your sleep diary information each day, and the system will use an algorithm to generate a sleep window that fits your sleep pattern," Ritterband says. "The goal is that we consolidate your sleep so that you're sleeping more efficiently – then we can stretch the amount of time you're in bed sleeping."
The program contains a series of steps and can be completed in as few as 6 weeks, but usually takes a few months.
Expanding Beyond the Clinic
Like many innovations, the treatment began within a clinical trial in 2006. According to Ritterband, the director of the Behavioral Health and Technology Lab in the Department of Psychiatry and Neurobehavioral Sciences at UVA's School of Medicine, it became clear early on that the treatment was an effective one that could benefit a wider audience.
"The trial went really well," Ritterband says. "We published the data in 2009 in a high-impact journal, and it generated more interest than we were ready for or equipped to deal with."  The paper led to a great deal of press coverage; Ritterband and his colleagues have been featured on "Good Morning America," NPR, The New York Times, and USA Today, among many other outlets.
As the buzz around the program grew, Ritterband and his colleagues were approached by businesses interested in spinning the program out beyond UVA, and the group decided to form a commercial unit with the help of the UVA Patent Foundation: BeHealth Solutions, Inc.
"Creating a startup company allows us to really focus on dissemination," Ritterband says. "We wanted to get it out there. Otherwise, we'd have this effective program that would just sit on a shelf. We didn't want that to happen. When people asked us how they could access the program, we wanted to have an option for them."
Unlike the clinical trials, the commercial version is available to anyone. It's the version used with success by Galazzi, for instance.
Research into Sleep Issues Continues
Meanwhile, Ritterband, who is also the co-founder and president of the International Society for Research on Internet Interventions, and colleagues continue to test the effectiveness of SHUTi.
The researchers received a new NIH grant in 2010, allowing them to study 300 individuals nationally and track their progress on a long-term basis. The maturing framework of the platform is also allowing them to take the program worldwide, tailoring the course of therapy to Australians and Norwegians, for instance.
Another emerging aspect of SHUTi involves insomnia issues for patients with diseases such as cancer, diabetes or depression.
Depression appears to be a particularly fruitful area for research, Ritterband says.
"Insomnia is not always just a symptom of depression. It can be a unique and co-morbid condition," says Ritterband. "The field of insomnia has moved away from the idea of insomnia always being just a consequence of depression but really being a separate and distinct entity that can actually even be a predictor of or risk factor for depression or anxiety." Two trials focused on this intersection of insomnia and depression using SHUTi will be launched in Australia this year.
In some cases the SHUTi developers are licensing the software for other clinical researchers across the country.
Better Sleep
In her case, Galazzi says it took about two weeks to develop healthier attitudes about her sleep and about a month before she was truly sleeping better.
"The program taught me about my sleep efficiency, my personal sleep window, my sleep attitudes and how to monitor my sleep patterns, Galazzi says. "It's really a well-designed, very informative, easy to use, helpful platform."
Sleep Tips: Three Ways to Get Better Sleep Now:
Don't go into bed if you aren't sleepy
Don't stay in bed for more than 20 minutes if you are not asleep
Only use the bed for sleep and sex
Learn more about the SHUTi program.