A hospital stay can cause stress for patients and their families. Some are able to manage the stress on their own, but many often need help coping with illness, the changes that come with a diagnosis and finding community resources to help make the experience easier. That's where social workers come in.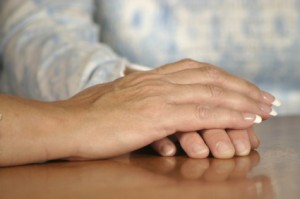 Social Workers: What They Do
Social workers are the nation's largest group of mental health service providers, providing more mental health services than psychologists, psychiatrists and psychiatric nurses combined.
There are 50 social workers at UVA, and they see 90 percent of all our new patients at the hospital for an initial screening and psychosocial evaluation. That's about 550 new patients in an average week.
About half of the patients who get an initial screening then require an in-depth psychosocial evaluation (their social and psychological behavior). Issues that might warrant an in-depth assessment include:
Substance abuse
Family violence or distress
Medical crisis
Suicidal thoughts or feelings
Grief
For these patients, our social workers create a plan for intervention.
Focused on the Psychosocial Needs of Patients
The social workers at UVA focus on the psychosocial needs of patients; case managers focus on the discharge process. Previously, social workers did both tasks. This recent change gives social workers time to focus on patients and their families.
"It allows us an opportunity to really spend more time focusing on the emotional support of patients and their families," says Susan Aronhalt, a clinical social worker who works with cardiovascular and thoracic surgery patients. "I really enjoy it. It's something we as social workers try to do, but we didn't always feel we had the time we needed to do. What I have found is that very often just being the person they can talk to is helpful," says Aronhalt.
Looking at the Whole Person
Social workers are "system thinkers," says Noel Dianas-Hughes, manager of social work. They look at the big picture and figure out the best way to help patients and their families.
For instance, someone who's viewed as a "difficult patient" may just be scared or frustrated. Acting out could be the patient's attempt at controlling a situation they have no control over, Dianas-Hughes says. Social workers can help educate the healthcare team and the patient and thus diffuse these types of situations.
For example, Aronhalt was called in to talk to a patient who was threatening to leave the hospital. It turns out that the patient didn't want to leave, but she'd recently lost her job and was homeless.
"She was at the end of her rope and didn't know what else to do," she says. She wanted to talk to a social worker about unemployment benefits, housing and custody of her children. "Everyone was focused on her behavioral outbursts, when at the heart of it, it was really psychosocial issues that were the driving force. I was able to talk with her and diffuse a lot of that situation. She didn't end up leaving the hospital."
Social worker Jesse Dice was recently asked to see a patient who a nurse thought might have a personality disorder. "I really didn't get the feeling there was anything going on other than stress. Depending on what a person's been through, I'd be at my breaking point, too. It's important to tease out, if there is a difficult patient, why that patient is difficult," Dice says. The patient had a bad experience at another facility and was anxious. Dice helped her take a more active role in her healthcare and worked with her to get a concrete treatment plan and go over it with her. "Instantly, she felt heard," he says.
Training Social Workers
Most social workers at UVA have a master's degree in social work, and all UVA social workers will need the Licensed Clinical Social Worker (LCSW) designation by about 2016, says Dianas-Hughes. The LCSW requires social workers to complete an additional two years of supervised training in a clinical setting beyond the studies for their master's degree.
Helping Patients' Families
The needs of families are just as important and they receive the same services from our social workers as patients, including counseling, says Dianas-Hughes.
Methods social workers use to help families and patients include:
Cognitive behavioral therapy
Imaging visualization
Meditation
Social workers help families communicate in difficult situations. For instance, if an ICU patient's family can't agree on treatment, social workers will help find ways for the family to communicate, provide counseling and therapy, talk to families about grief and loss and act as a connection between the family and the healthcare team.
"We're trying to help families to communicate with themselves and the treatment team," Dice says.
These meetings allow families a chance to talk, says Aronhalt. Communication is key, but busy medical team members don't always have the time to talk about things repeatedly with families and patients. "A lot of times, people have to hear things multiple times" for them to process it, she says.
Social workers also help families prepare to take loved ones home after a hospital stay, which can be a stressful time, especially if the patient has limitations.
Pediatric Patients
The families of pediatric patients often require additional help from social workers.
"It's always stressful when someone is in the hospital, but it's particularly stressful when a child is in the hospital," says Dianas-Hughes.
Parents may not be able to work, putting a financial strain on the family. Siblings may feel neglected. And some parents can't even spend much time in the hospital with their sick child if they have other children who need care at home.
Social workers help connect parents to community resources and they help parents understand what they can and can't control in their lives.
Rewarding Work
For Aronhalt and the other social workers, helping people is the reason they chose their career.
"I like having time to get to know people a little more and being more able to focus in on talking with them and finding out what's going on with them and having the time to talk with families," she says. "It's tough work, but I find it very, very rewarding being allowed to help people in one of their most vulnerable times."
Dianas-Hughes says, "It can be very stressful, but it can be so rewarding. You have to have a commitment to social justice to do the work and a commitment to help people while supporting and encouraging self-determination."