Donna Markey, RN, MSN, ACNP-CS, is a nurse practitioner at UVA's Hope Cancer Care Augusta in Fishersville, where she teaches patients about the chemotherapy process, tests and other aspects of their condition, writes prescriptions and helps patients manage side effects and symptoms. She enjoys the opportunity the job gives her to spend time with her patients and explain often-difficult topics.
But on April 18, 2012, Markey became a patient herself when she felt a lump under her right arm. "I knew immediately I was in trouble," she says. She went to work and told her coworkers. She had an ultrasound and a biopsy that day, and two days later was diagnosed with stage 2 breast cancer. Chemotherapy started about a week later.
Markey's oncologist was Maya Ghaemmaghami, MD, who works with her. "It was natural for me to get care from the people I know best and who I know and trust," says Markey, who's worked at Hope Augusta since 2009. "It was natural for me to seek their guidance and support and go where I was the most comfortable."
And she didn't really have a choice. "They would've been mad at me if I went somewhere else," she laughs.
Breast Cancer Treatment
Over the nine months following her diagnosis, Markey's cancer was treated with chemotherapy, surgery and radiation.
Chemotherapy
The first step was chemotherapy: Six treatments, three weeks apart, each for 6 ½ hours. Markey took off the Fridays she had chemotherapy and came to work late the following Mondays. A flexible work schedule allowed her the time to recover from the chemo. "They were happy to adjust my hours for me. I was tired. By the end of 18 weeks, you're exhausted."
Markey chose to get chemotherapy at Hope Cancer Care Charlottesville. "I didn't have to get chemotherapy sitting next to one of my own patients or with the staff who I work with every day.
"I just figured it was stressful enough for them. When I was first diagnosed and I went around telling everybody, they were devastated. I love them and they love me and I just knew how hard that was going to be for them potentially if I had a problem or I got sick." She still got her blood work and other tests at work.
Mastectomies, Breast Reconstruction
Markey had surgery in October 2012 — bilateral mastectomies with immediate breast reconstruction. While she thought she only had cancer in one breast, doctors discovered it in both breasts during surgery (her type of cancer, lobular, doesn't show up well on a mammogram). One month later, she had lymph node surgery.
Radiation Treatment
After the surgeries, Markey went back to work in early December and started 5½ weeks of radiation therapy the following week. Her radiation treatments were five days a week at the Moser Radiation Therapy Center in Ivy and lasted about 15 minutes each.
Side Effects of Cancer Treatment
Cancer treatment takes its toll on a patient's body and Markey was no different. Toward the end of her chemotherapy treatment, she experienced nausea, hair loss, digestive problems and swollen feet. "It was August. It was hot and my feet were swollen. By the end of the day I could barely stand to walk on them anymore."
The chemo also left her with sore feet, which was tough because she spends a lot of time on her feet at work. Radiation therapy came with its own side effects. Seven days after it was over, her skin blistered and peeled and she had second-degree burns under her arm. "That was pretty painful," she admits.
Continuing to work while experiencing those symptoms couldn't have been easy, but, as Markey herself says: "I am pretty tough."
And today, thankfully, most of her symptoms are gone.
"I feel good. I have stiffness and there's a lot of scar tissue [from surgery]. You constantly have to stretch to keep things loose and keep being able to move. But my skin has healed from the radiation already and my energy is good."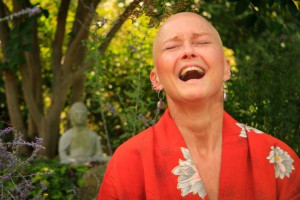 Cancer Free
The surgery removed Markey's cancer, and the radiation and chemotherapy treatments were intended to prevent a future occurrence. She's cancer free now. "And we hope that I stay that way," she says.
Taking Control with Alternative Therapies
While it's clear that Markey is naturally a tough woman, she also credits part of her ability to withstand her cancer treatment and those side effects to complementary and alternative therapies she says helped give her good energy and support her immune system.
"I think that's why I've done as well as I've done. People look at me and they can't believe I've been through the last nine months. I think that had a big part."
Dietary Changes
Markey changed her diet significantly, changes she intends to stick with:
She stopped eating most dairy, except yogurt.
She gave up sugar.
She limited animal protein and fat.
She also ate a lot of fruits and vegetables and juiced when she couldn't eat solid foods due to nausea.
Exercise
Markey did Pilates before her diagnosis and continued to do so during her treatment. She's also incorporated yoga into her exercise regime.
Acupuncture
Markey also used acupuncture to help deal with nausea and give herself more energy.
Massage
Her husband, Kevin, had a massage therapist come to their Crozet home the night before each chemotherapy appointment for a full-body massage. "That was amazing and it just helped me relax and be calm and peaceful about the whole thing."
Markey encourages her patients to try these alternative therapies. "If they don't think of it, I recommend it. More and more patients ask about those kinds of things, and they're all very interested in my experience."
Caring Coworkers
In addition to the flexible work schedule Markey had during her illness, her coworkers helped in other ways. "Everybody picked up the slack for me." Markey notes that the other nurse practitioner in her office, Kathleen Haden, RN, MSN, ANP-C, took on a lot of her work, as did doctors at the practice. "They just made it happen."
And her coworkers helped her outside the office, too. They offered to cook for her, but she didn't want that because of her dietary changes, so she mentioned she'd like to have someone weed her garden. "In one afternoon, they completely weeded and mulched my entire yard. It was amazing," she says, tears welling in her eyes.
And when she arrived home from the hospital after her surgery, she was greeted by a lovely surprise. "They had decorated my front porch for Halloween with pumpkins and mums. Just really sweet things. I have awesome coworkers."
Connecting with Her Patients, Facing Cancer
Markey's experience has given her a new perspective when it comes to working with her patients, many of whom have sent her cards or letters.
"I don't think I had a problem with credibility before, but when they understand that you understand what they've been through, they listen to you differently. It has a different impact on them."
She hopes to work on survivorship issues, especially looking at how to best help patients after their treatment is complete. "You are on a treadmill for nine months. When the treadmill stops, you say, 'What now?' Obviously I have a lot of insight into that, but the general patient doesn't. My hope for the future is to be able to continue to share that information and help patients as they face their cancer."
Do you know a cancer survivor with a story to tell? We'd love to hear it! Share with us below.