These days, more and more women are going into the field of medicine. About half of the medical school applicants in 2005 were women, compared to only 10 percent in 1965.
The result? More and more doctors happen to be mothers. Finding a balance of work and family life can challenge any working parent, but for mothers, especially mothers in the medical field, the stresses are uniquely intense.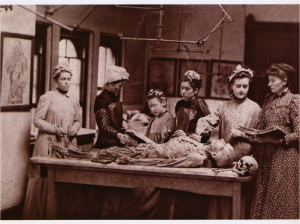 It therefore seemed appropriate to celebrate Mother's Day this year by sharing some key points about motherhood and work from a talk given by Megan Bray, MD, an OB/GYN here at UVA.
Challenges for Working Mothers Who Are Doctors
A mother herself, Bray's presentation, delivered at the 2013 Quadruplicity conference here in Charlottesville, VA, discussed the specific disadvantages women with medical careers face:
When to time pregnancy in regards to career ambition and stress
Maternity leave guilt and restrictions
Can't do the typical 7 a.m. or 7 p.m. meetings
Difficulty finding reliable childcare for odd schedules
Gender Norms in the Workplace
Bray also pointed out cultural gender norms that can hamper success in any career:
Definition of success includes "wholeness" and meeting family responsibilities
Less likely to be effectively mentored or sponsored or tapped for leadership roles
Need to please, make others comfortable
Women underestimate their own abilities
Women are still their family's primary caregivers
How to Find Balance
Bray's antidotes to these challenges?
Maintain a sense of humor
Build a support network
Find reliable childcare
Set boundaries/learn to say no
Set your own standards (realistic timelines and goals)
Make time for yourself
Practice something that centers you like yoga or exercise
Get organized
Be flexible
Simplify your life
Enjoy quality family time
Find joy in the journey
These are definitely instructions all of us can take to heart.
This Mother's Day, we celebrate all the women who are both doctors and mothers, and all the mothers who face the challenges of balancing family and work, whatever their jobs may be.
Happy Mother's Day!