I will never forget what it was like going home from the hospital after the birth of my first child. It was a bit of a shock to be alone and clueless in my house after the comforting environment of supportive, experienced nurses who helped me care for and feed myself and my infant. That first sleepless night, while I was glad to be home, I also wished I could be whisked back.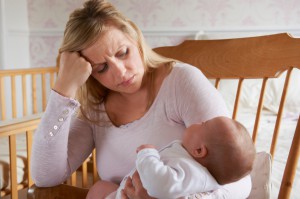 I'm not the only one who's experienced this post-hospital helplessness, especially when it comes to breastfeeding. Many new mothers are still in the process of figuring out breastfeeding when discharged and, when challenges occur at home, discouragement sets in. Many give up.
The Breastfeeding Drop-Off
And this is fairly typical behavior. About 75 percent of babies breastfeed at birth, but six months later only 13 percent are still exclusively breastfeeding.
Clearly, support – or the lack of it – is key. "A gap exists for extending care for breastfeeding mothers following hospital discharge," says Sharon Corriveau. She's a recent graduate of UVA's School of Nursing doctoral program whose research project on this issue garnered her the Outstanding Capstone Project Award last year.
For her project, Corriveau wanted to see if added support would improve the outcomes.
"I was very excited to be able to apply the Academy of Breastfeeding Medicine Clinical Protocol, 'Breastfeeding-Friendly Physician's Office,' within my pediatric primary care setting, and to then evaluate its effectiveness."
Struggling with Breastfeeding?

The Breastfeeding Medicine Program can help.
Help With Breastfeeding… Helps
The result? The research, which was published in the May issue of Pediatrics, found that "providing support in a setting mothers are already expected to visit, the pediatrician's office, creates an environment where support can be accessed. Pairing lactation consultant services with pediatricians creates a team with shared intentions and removes barriers to care for breastfeeding families," Corriveau explains. That is, it worked: they found " increased initiation rates and exclusive breastfeeding rates after implementation of the ABM's breastfeeding-friendly protocol."
The research – and the attention it's received – has provided a host of ways that healthcare providers can encourage breastfeeding. Emily Drake, PhD, RN, CNL, associate professor at the UVA School of Nursing, notes how Corriveau's practice added "lactation rooms where families can meet with the lactation consultant during their routine visits or anytime. We now have this at UVA too! It's part of the Breastfeeding Medicine Program."
Drake adds, "I think the bottom line is there is a lot more we can do at the hospital and in the clinic to support breastfeeding moms starting before they deliver and after—and it does make a difference."