It takes thousands of employees in all manner of positions to keep the UVA Health System humming.
Without a small army of dedicated volunteers, however, the hospital would look like a much different place.
A Century of Care
The UVA Hospital Auxiliary, a 105-year-old, volunteer organization, exists solely to offer aid and comfort to patients in need.
Among its volunteer service and various activities, the group raises money for various health and education programs and contributes funds to social workers and many other hospital areas to directly benefit patients and families.
Sally LeBeau, manager of volunteer services at UVA, says there are about 850 active volunteers in the Health System.
All of them are members of the auxiliary.
Hospitality House
One popular volunteer outlet is the Hospitality House, a 62-bed facility near the UVA Hospital that offers a place to stay for patients and adult family members for $10 a night. 
The auxiliary supports the Hospitality House — which has an annual operating cost of about $600,000 — with a yearly contribution of about $66,000. 
"We have UVA volunteers that provide support there, that come and work a shift each week at the HH, doing administrative work, greeting visitors, cooking meals," LeBeau said.
One volunteer has been greeting guests for 15 years, LeBeau said. 
A monthly donation from the Emergency Food Bank also helps keep the cupboard stocked.
Other Groups Lend a Hand
There is also a network of volunteers outside of the Health System assisting in the care of patients and their families.
Sam McLawhorn,Thomas Wade Clegg and Elisheva Clegg, for instance, formed the Interfaith Humanitarian Sanctum (IHS) in 2008. Since then, the Cleggs have become experts in the various unforeseen situations people find themselves in when they travel to receive medical care.
The non-religious, nonprofit, all-volunteer charity started with the simple idea of helping with the basics: food and lodging. To that end, they provide assistance to patients and their families with:
Places to stay while they seek treatment, including hotel rooms and the $10 fee for the Hospitality House
Hundreds of full-day meal packets a month at both the UVA Hospital and Hospitality House
Co-pays for prescriptions and transport funds
Items for children such as car seats and breast pump rental for new parents

 
Says Wade Clegg, "Once you experience the overwhelming number of desperate situations, which social workers handle almost daily, and you know you can make a difference … then a considerable amount of suffering can be lifted. That's something that's easy to put our arms around."
A New Mission: Helping Patients Heal
The idea for the charity came one evening when Elisheva, while serving as a volunteer chaplain at the hospital, met a young mother whose husband was receiving treatment at the hospital looking for the garage where she planned to spend the night in her car.
Elisheva instead arranged for a hotel room where the mother and her children could stay.
The incident with the young mother in the car turned out to be a moment of epiphany for Elisheva.
"We said, 'What are we going to do for the rest of our lives?'" Elishiva remembers. "We need to form a charity." 
A Coordinated Effort to Care 
The Cleggs say their criteria for who is deserving of assistance is simple. If a UVA social worker signs off on a need for assistance, it's good enough for them.
And the social workers at the hospital do not hesitate to call upon the IHS for a variety of needs.
"About three years ago I saw a need for food for my pediatric families," UVA social worker Teresa Bevins says. "I contacted the Cleggs and asked if they would be interested in developing an ongoing meal support program for caregivers. They were more than willing to start this process."
The food program quickly grew, and now all of the social workers at the hospital know that they can take meal bags from a stocked cabinet at any time. Bevins says she and her coworkers pass out about 100 full-day meal packets every 10 days.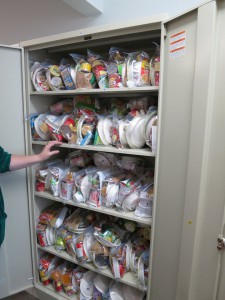 "These people are angels," Bevins says of the IHS.
The Cleggs, meanwhile, are quick to complement their chief liaisons to the Health System.
"The social work staff may be the most underappreciated groups at the hospital," says Wade Clegg. "These are people who care, but there is a limit to where they can take it. Hopefully, we are extending their limits in a small but significant way."
Sustaining a Worthy Cause
IHS relies on money and food donations from individuals and groups and has received grants from Dave Matthews Band's Bama Works Fund, the J & E Berkley Foundation of Charlottesville and the Junior League of Charlottesville. There is no paid staff, and the comings and goings of funds are accounted for down to the dollar in tax forms posted on the IHS website.
Although the steady increase in requests keeps the organization busy—need has increased about 100% each year of the charity's existence—the Cleggs hope to put the IHS on a sustainable, permanent path. For instance, they envision a home base on a working farm, with lodging available for patients in need and a communal dining hall. 
Interested in giving to the IHS?
Learn more about the work of the IHS.
Learn more about volunteer opportunities at the hospital.