Ava McDonough is a rising 9th-grader at St. Anne's-Belfield School and part of UVA's Summer Volunteer Program. Here are her reflections on volunteering at UVA Hospital.
This week there have been many memorable moments in three of our many volunteer job opportunities. Other volunteers and I have enjoyed playing with the 2- through 4-year-old children at Malcolm Cole Child Care Center. We have delivered mail to many inpatients. We've enjoyed playing the piano for the guests in the Primary Care Center. This third week has been fun as we get to help out even more.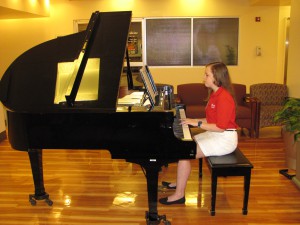 Playing Dress-Up
One of the fun things that I got to do with the 4-year-olds at Malcolm Cole Child Care Center (daycare facility for UVA Health System staff) was play dress-up. The kids tried to find things that would fit me, someone who is twice their size. After a few minutes of holding things up to my shoulders and laughing if it was too small, they dressed me up in a firefighter jacket that said, "Stand 200 feet back" on it and a bright red helmet. Laughing at me, they then pulled me to the rug in the middle of the room where all of the "princesses" held a fashion show showing off all their glittery gowns. The teacher played music as all the kids danced with each other. The only boy in the room enjoyed joining in with all the girls dancing. One of the volunteers, CC, was working with the older twos at Malcolm Cole when a little girl walked up to her and asked if she had chicken pox. CC responded, "No, they're just a lot of freckles," and the girl said, "Oh" and walked away.
Piano Music
The Primary Care Center's piano has been enjoyed by volunteers and patients throughout the weeks we have been here. We as volunteers love to see how the smallest little things can make such a huge difference. The piano has made a positive impact in the Primary Care Center. One of the volunteers said, "I've loved playing piano in the Primary Care Center. It's a really fun way to brighten patients' and guests' day. Numerous people have told me how much this has helped them through the day. It's really an amazing experience."
Delivery of Cheer
Delivering mail is a great way to help patients cheer up. The volunteers that deliver mail enjoy seeing how happy patients get when their mail is delivered to their room. One volunteer said, "I liked delivering mail to the patients because it was nice to be able to brighten up the days of people who weren't feeling the best." It's a great feeling to help someone who's not feeling the best to become a little bit happier.
This third week has been fun and exciting. Getting used to the things we get to do has made the days all that more enjoyable. Bringing a little bit of happiness to someone's day can also bring some to yours. I am looking forward to next week, especially with the new lobby being open.