Floyd Lamb had a problem. At first, it wasn't that big of a deal; his finger was curling down and he was having a hard time straightening it.
But then, one day, he couldn't straighten that finger at all. And this simple problem made life very, very complicated.
"I couldn't use my hand much," Lamb says. "It was all closed like a fist, doubled over. If I had something in my pocket, I couldn't hardly get it out. It was just aggravating."
Daily activities became impossible struggles. "Shaving was my worst thing – trying to put shaving cream on my face. I couldn't hardly do it."
This disease, called Dupuytren's contracture, is not rare. It's old enough to have the nickname of Vikings disease, reflecting the fact that it affects mostly people of Northern European descent. Skin tissue builds up in the hand (or feet, legs or penis) and forms cords that then pull on your extremities, preventing them from straightening. While not painful, the condition has a crippling affect. Some people who suffer from this condition lose the ability to drive or even put on their own clothes. And the typical treatment of surgery can be both costly and heavy on recovery time.
Xiaflex: A Non-Surgical Option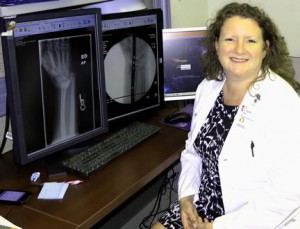 "It had been going on for a long, long time, it just finally got to the point. So my doctor referred me over there," Lamb says, referring to the Hand Center.
Which is where I met met D. Nicole Deal, MD. I had no idea just how helpful she has been for hundreds of patients throughout the region. As Deal scrolled through before and after images of badly damaged hands and her repair work, it became clear that her work has had a major impact on the quality of life for all kinds of people, some of whom would be completely disabled without her expertise.
And that was her number one reason for doing what she does. When I asked Deal why she had specialized in orthopedics and specifically hand surgery, she didn't hesitate: "Helping people."
At the UVA Hand Center, Deal has a lot of chances to help. The Hand Center is one of the only places in the region to offer an alternative to surgery for Dupuytren's.
"Dr. Deal gave me a shot in my hand and the next day she popped it back in place. It's working now. Dr. Deal was real helpful," Lamb explains, enthusiastically.
Lamb is referring to Xiaflex, the relatively new medicine that had quick results for Lamb.
"We started using it two years ago," Deal says, "And I'm really excited. People used to have to have surgery, but now we can inject one day and the next day they can straighten their fingers. It's changed peoples lives."
Everyday Disasters
The stories she tells are intense. One memorable patient came into the Hand Center after a New Year's Eve car accident with no pulse in her hand. She'd been ejected from the car and large chunks of the soft tissue in her arm were gone. Skin grafting helped her regain complete use of her arm.
A cyclist was hit by a car and had badly broken arms. Deal got him back to work in 17 days.
Bridge plating, a technology she brought with her to UVA, works for "severely comminuted fractures (like a smashed wrist) you can't reconstruct. You put a plate across the wrist on the inside to hold it while it heals and then go back and take it out later."
She also specializes in creating what's called an adipo fascial flap. "What you do is take tissue and rotate it around, put a skin graft on it. This decreases rates of amputation and decreases the need for big surgery to transfer tissue from another part of the body by using local tissue to reconstruct the defect."
Trauma Season
You'd be surprised how often she gets called upon to employ her talents, especially in the summer. "Right now it's trauma season," Deal says, because of the sharp rise in motorcycle accidents that occur in the warm months. "People cut nerves, tendons get all chewed up."
Whether it's an accident that causes mutilation or a disease that hampers functionality, Deal enjoys her work. "It's challenging and interesting to work to put people back to a functional level, back to their activities," she says. "It's very gratifying."
Able to lead a normal life again, Lamb is also grateful to have a working finger. "I'm still exercising and put a splint on it at night. But I can do things now. It's about healed up."
Learn more about Dr. Deal's team, including Dr. Bobby Chhabra's expertise, by visiting the Hand Center today.