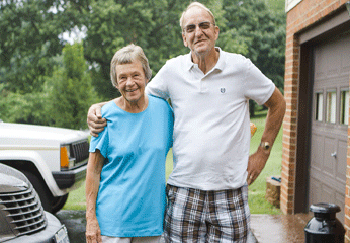 The number five is a fortuitous and momentous number for the Berrys. The couple fell in love over $5 date nights, exchanged nuptials at a $5 wedding and both survived five years cancer free. Perhaps the most substantial benchmark in their marriage, though, is overcoming lung cancer to make it to their 50th wedding anniversary.
The Beginning of a Love Story
Both natives to Culpeper, Frances and Charles (Charlie) met as teenagers. Frances worked part time at a local grocery store while Charlie fueled his passion for working with automobiles. Beloved Saturday night dates consisted of dinner, a movie and gas for the trip, all under $5. After two years of dating, the couple wed in a $5 ceremony held in their pastor's living room.
Like all couples, they have their share of disagreements, but neither one can remember a single fight. Since the day they met, they deeply enjoyed each other's company and supported one another. A few years into their marriage, Frances helped Charlie achieve his goal of opening an auto body shop. For the first year and a half of business, they worked seven days a week without a single vacation.
The Berrys find their quiet, country lifestyle a perfect fit for them. They prefer tending to their pristine garden and spending time with their children and grandchildren. They don't bother with traveling except for the occasional trip to Atlantic City to play the slot machines. "It's nothing extravagant, nothing big, just a good simple life," says Frances; "I wouldn't change a thing, except I wouldn't smoke."
The Diagnosis: Lung Cancer
Throughout most of their marriage, smoking was a daily habit shared by Frances and Charlie. In a time where it was common practice and little was known about side effects, they enjoyed the relaxation the habit provided. In addition to working in the auto body shop surrounded by gas fumes, oil and asbestos, the couple never once thought about the toxins entering their bodies. It wasn't until Frances came down with a cough, shortly followed by Charlie's similar symptoms, that they both landed in the hospital with lung cancer.
See a Lung Cancer Specialist

To make an appointment to see one of the UVA Cancer Center lung specialists or to seek a second opinion, call 434.243.6828.
Frances visited her primary care physician with symptoms of bronchitis. She was soon referred to UVA Cancer Center for a CT scan where she tested positive for stage 2 lung cancer. In February of 2009 she underwent surgery, only a few months before Charlie was diagnosed with stage 1 lung cancer and also seen at UVA Cancer Center.
"You don't know what you would do when the time comes," says Charlie. He and Frances shared fears of missing out on seeing their grandchildren grow up and ultimately losing their lives to this disease. However, after meeting Benjamin Kozower, MD, MPH, and other members of their care team, their fears were calmed.
"I didn't feel nervous because I already trusted him," says Charlie.
Receiving Treatment at UVA Cancer Center
The Berrys became the first husband and wife couple to be treated by Dr. Kozower. "He is absolutely fantastic, he is a wonderful doctor," says Frances regarding Kozower's professionalism and competency in handling each diagnosis. She says his charm lies in his sincerity and matter-of-fact approach to care.
CT Screening for Lung Cancer

Lung cancer is the most common cause of cancer death in the U.S. The UVA Cancer Center offers a new screening program for early detection and treatment of lung cancer.

Contact a UVA Cancer Center Lung Screening Program coordinator at 855.200.LUNG (5864) or lungcancerscreening@virginia.edu for more information or to make an appointment.
Frances recalls her first appointment with Kozower: He asked if she smoked cigarettes and if she had them in her possession. After replying that she did, he asked to see the cigarettes. Kozower promptly threw them into the trash stating, "now you don't smoke." To this day, Frances has not picked up a cigarette since that moment of much-needed tough love.
Both Frances and Charlie were lucky to have caught the disease in its early stages. Close friends of theirs, another husband and wife pair, experienced battles with colon cancer. They were unsuccessful in an early diagnosis, resulting in the unfortunate loss of the husband. "When you have cancer, it doesn't hurt," Charlie says, "When it hurts, it's too late."
Although Frances and Charlie shared the same disease, their treatments were tailored to meet their individual needs. They thoroughly understood every step in the process and felt the staff was available for help in any way possible. Judy Phelan, Kozower's assistant, even helped Frances find scarves and a wig to wear after losing her hair during chemotherapy.
"You take life day by day," says Frances, "and you live it to the fullest."
Today, the couple takes every new day as a gift and they enjoy the years to come with their grandchildren. They even attend their respective yearly checkups as a couple during the same appointment. Resuming their normal, routine life Frances and Charlie are anxiously awaiting their 51st wedding anniversary.