If you knew your stem cells could save another person's life, would you Be The Match? The Be The Match® registry is the world's largest and most diverse bone marrow donor registry, offering patients potential cures for immune disorders and blood cancers.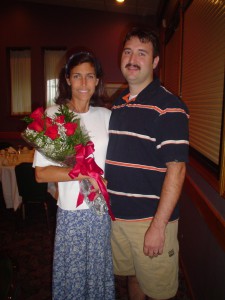 UVA Cancer Center's Bone Marrow and Stem Cell Transplant Program has been designated as a National Marrow Donor Program and now has access to the Be The Match registry. With this program, UVA patients now have access to more than 22.5 million potential donors and 601,000 cord blood units on U.S. and global registries. Patients in need of transplants will be able to receive treatment in-house without traveling to other hospitals around the country.
Prior to this program, receiving transplants was not nearly as accessible or convenient. Molly Bass, a Charlottesville resident, endured a two-year battle with Hodgkin lymphoma and large T-cell lymphoma that took her all the way to Seattle for a life-saving transplant.
A Journey To Seattle
Bass started working at the University of Virginia in 1994 as the assistant director of the Jefferson Scholars Foundation. In 2001, she began losing weight and experiencing itchy feet, dizziness and severe fatigue. Like most, she attributed it to the stress of a busy job and an active lifestyle.
It wasn't until she felt a lump on the side of her neck and noticed swollen glands that she went to see a doctor. Results from a CAT scan highlighted tumors covering the bulk of Bass' chest. The next day, Bass was scheduled for surgery to biopsy one of the enlarged lymph nodes. Awaking from surgery she was informed of the news: She had Hodgkin lymphoma. Taking control of her health and treatment options, Bass sought a second opinion, and to her surprise, she was told she had large T-cell lymphoma.
After three different chemo regimens, extensive radiation and two relapses, additional tests determined Bass was affected by both forms of cancer, a rare occurrence. For the best chance at long-term survival, the doctors recommended tandem stem cell transplants. At UVA, Bass was able to harvest her own stem cells needed for her first transplant. Family members were typed for the second transplant but no matches were found.
Without access to the Be The Match program, UVA didn't have the capacity to find her a non-related donor match and perform the second necessary transplant. Her best option was to travel to Seattle, spending an initial $2,500 out of pocket to find a match.
Traveling to Seattle took a toll on Bass, as she had to leave her house, job, friends, family and her beloved Bernese Mountain dogs. Luckily Bass and her mother were able to stay with friends for the four-month period, but relocation during a time of stress and uncertainty was no easy feat. Through it all, she always managed to keep a positive outlook on the situation. "The transplant was just one more thing I had to do," says Bass.
The Life-Saving Match
Bass' donor match, Sam Cato, never gave much thought to donating his stem cells. He had an understanding that it was something people just did in the off chance that it could save someone's life. Born on the same day nine years apart, Cato and Bass were meant to be a perfect match.
In 2005, after her recovery, Bass and her father flew to Chicago to thank Cato in person. He greeted Bass with a bouquet of red roses as she stepped off the plane. It was an emotional day for both of them. "How do you thank someone who saved your life?" asks Bass.
Bass is a strong advocate for the Be The Match program. About 70 percent of patients don't have a match in their family and rely on unrelated donors to save their lives. "The ethnic variety of people is becoming more diverse; matches are not as clear cut anymore," says Bass. "The more people who are typed, the more people are going to be matched."
She is amazed at the changes and technological advances that are available today to help improve the survival rate of cancer patients. She believes the Be The Match program will help UVA continue to deliver leading-edge treatment to patients locally and within surrounding areas.
Stem Cell Transplants at UVA

Find out more about treatment at UVA:
Bone Marrow and Stem Cell Transplants
Access to the Be The Match® Program
Another Blood Cancer Patient's Story
Last week, we met Jim Bryant, who was told he had 3-5 years to live after his mantle cell lymphoma diagnosis. Watch a video to see how Jim is doing now.