Denial and acceptance: two feelings Joe Thomas felt when he discovered he had a rare form of blood cancer called T-cell lymphoma. The local radio talk show host and program director for WCHV had noticed early warning signs but neglected to take a closer look. "I didn't want it to be cancer," he says.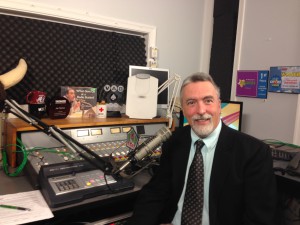 A Charlottesville resident, Thomas visited the UVA emergency room for a blood clot in his right leg impeding his blood flow. At the time, he thought it was unrelated to any serious conditions. It wasn't until Thomas' doctors urged him to look into the cause of his condition that he was diagnosed with T-cell lymphoma.
A type of non-Hodgkin lymphoma, T-cell lymphomas are a rare form of lymph node cancer. While most non-Hodgkin lymphomas are of the B-cell variety, the T-cell lymphomas are typically more aggressive than their B-cell counterparts, though some patients have a very mild course. T-cell lymphoma has a wide range of symptoms, including:
Unexplained fevers or chills
Drenching night sweats
Unintended weight loss
Enlarged lymph nodes
Enlarged spleen or liver
Change in blood cell counts
Rash
T-Cell Lymphoma: An Unexpected Diagnosis
Thomas may have entered the emergency room looking to treat his blood clot, but he is more than happy UVA took the time to examine his overall health. The UVA team discovered a large mass in his lymph gland and immediately determined treatment options. "From that moment on, everyone has been stellar," says Thomas.
To diagnose T-cell lymphoma, caregivers may test blood and do a bone marrow biopsy and spleen analysis. Thomas underwent a couple of biopsies, a CT scan and a PET scan for the final diagnosis. From the initial investigation of his condition until the last day of treatment, Thomas spent about seven months under UVA's care, spearheaded by Craig Portell, MD.
He contributes his successful recovery to Portell's straightforward and hands-on approach to care. Thomas felt comfortable throughout the process, knowing the decision for every test, procedure and treatment. "It is very comforting to be confident that you were getting the straight information," he says.
Thomas' Advice for Other Cancer Patients
His words of wisdom to others: "Diet feeds cancer," he says. While reviewing the results of his PET scan, Thomas noticed that cancer cells eat refined sugar, enabling them to continue growing. Since then he and his wife, Elaine, have become vegans and carefully monitor the amount of sugar they ingest.
Thomas stresses the importance of a healthy diet while undergoing treatment and says this is the reason he had few side effects while undergoing chemotherapy. Preparing for treatment includes having the right foods to provide your body with the energy it needs. He never felt fatigued, nauseous or uncomfortable enough to miss a day of work.
Thomas urges others to take charge of their health full force. He feels a can-do attitude and a valuable support system contributed to his successful outcome. "It is doable; we can beat these cancers," says Thomas.
He encourages others in similar situations to seek out UVA Cancer Center's Support Services division to address their concerns and get the care they need. The division features dietitians, social workers, and chaplains who work between the patients and nurses and oncologists to make the process as helpful as possible.
Read More About Blood Cancer
September was Blood Cancer Awareness Month, and we introduced two other patients: