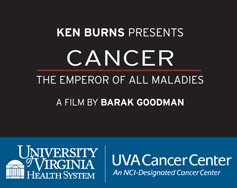 Based on the Pulitzer Prize-winning book, "The Emperor of All Maladies: A Biography of Cancer" by Siddhartha Mukherjee, the film, "Cancer: The Emperor of All Maladies," presented by legendary documentary filmmaker Ken Burns, tells the complete story of cancer from its first documented appearances thousands of years ago through the epic battles in the 20th century to cure, control and conquer the disease.
"Cancer: The Emperor of All Maladies" depicts the developments in understanding cancer at a time when we're approaching a major transition in how we see the disease — as treatable and possibly curable, versus deadly.
The Significance of Cancer Research Today
"This high-profile documentary emphasizes the significance of cancer research today. UVA Cancer Center is sponsoring the event as a public service commitment to our community so that everyone can be educated about progress in cancer research and its impact on the disease," says Cancer Center director Thomas P. Loughran, Jr., MD.
"In recent years we have learned much about how cancer originates and spreads. The research field is exploding with new knowledge, allowing us to develop drugs that target key factors responsible for keeping cancer cells alive. New drugs are being approved that work in ways we wouldn't have imagined just a few years ago, drugs that are eliciting truly miraculous responses in patients who had failed all previous treatments."
Join the Cancer Center on March 30 for a free, live screening of the film premiere, starting with a meet-and-greet with Cancer Center doctors and researchers who will discuss key initiatives in cancer care that are impacting patients today. The American Cancer Society will honor cancer survivors, there will be an interactive story wall where guests can share their stories about cancer and more.

When: March 30, 2015. Doors open at 6:30 p.m. Film begins at 9 p.m.
Where: The Paramount Theater, 215 East Main Street, Charlottesville

The event is free, but you must order tickets in advance.
About UVA Cancer Center
The Cancer Center is accredited by the Commission on Cancer and is one of 68 National Cancer Institute (NCI) designated cancer centers in the U.S. for its work in cancer research, prevention, detection and treatment. We provide comprehensive, world-class cancer treatment in an environment of caring for patients across Virginia, led by doctors who have been honored by publications such as "Best Doctors in America®" and "America's Top Doctors®."
To learn about research breakthroughs happening at the Cancer Center, come to a Cancer Education Series April 9 at The Paramount and visit our newsroom for recent articles and press releases.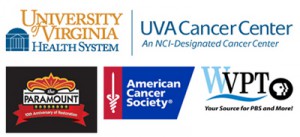 This event is brought to you by UVA Cancer Center in partnership with WVPT Public Television, the American Cancer Society and The Paramount Theater.